Sicilian pasta with cauliflower, raisins, anchovies, breadcrumbs, saffron, and pine nuts. Make the Sicilian cauliflower pasta when you want to eat healthy, but delicious.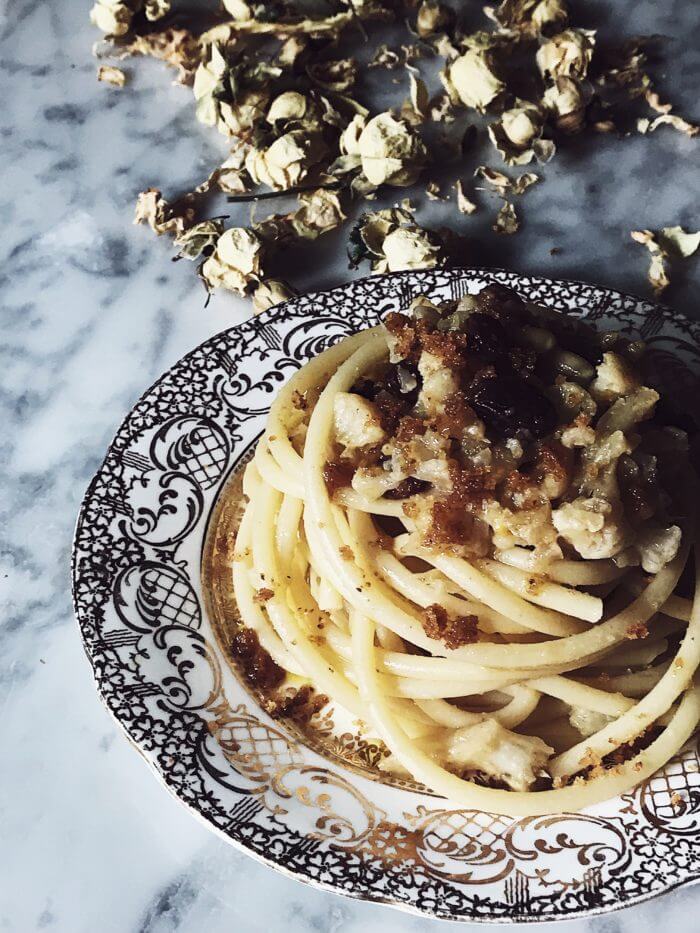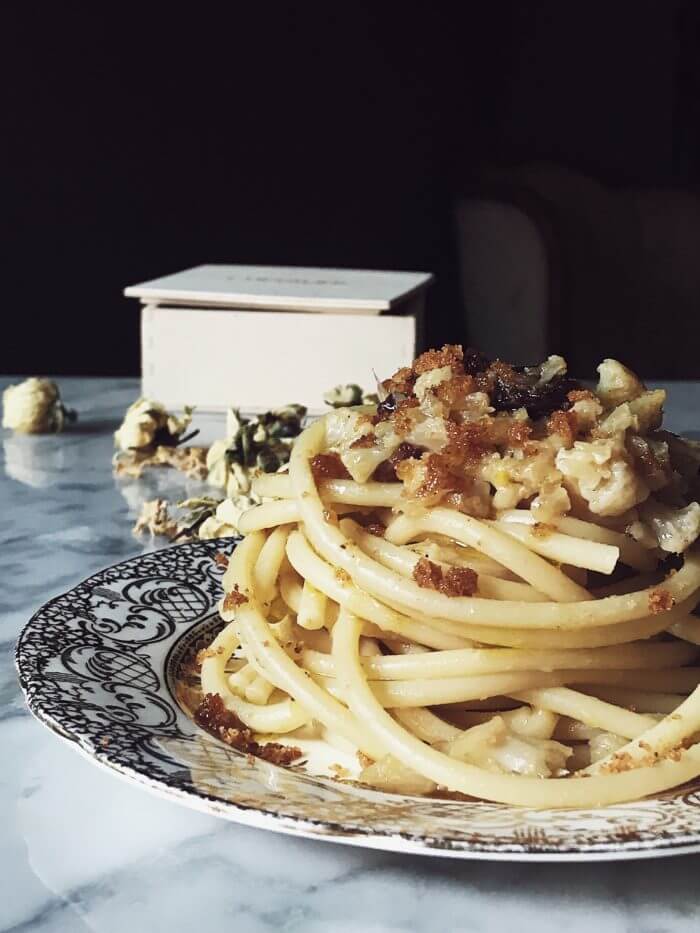 HOW TO MAKE PASTA WITH CAULIFLOWER THE SICILIAN WAY
The Sicilian pasta with cauliflower and raisins is a delicious, rich, nutritious, and delicious veggie pasta. 
Cauliflower and pasta would be good just the same, but by adding saffron and raisins, it becomes a gastronomic experience. The sauce would be too sweet without anchovies, the omnipresent Sicilian cuisine ingredient, and as the longly cooked cauliflower becomes quite creamy, toasted breadcrumbs give a crunchy contribution.
The Sicilian pasta with cauliflower is a recipe from the Yellow Simposio (my Italian cooking and living book series). Get your copy or subscribe and find out why Sicilians use so many Arab ingredients, why they love fish but cook a lot of veggies too, and many other Winter Italian recipes!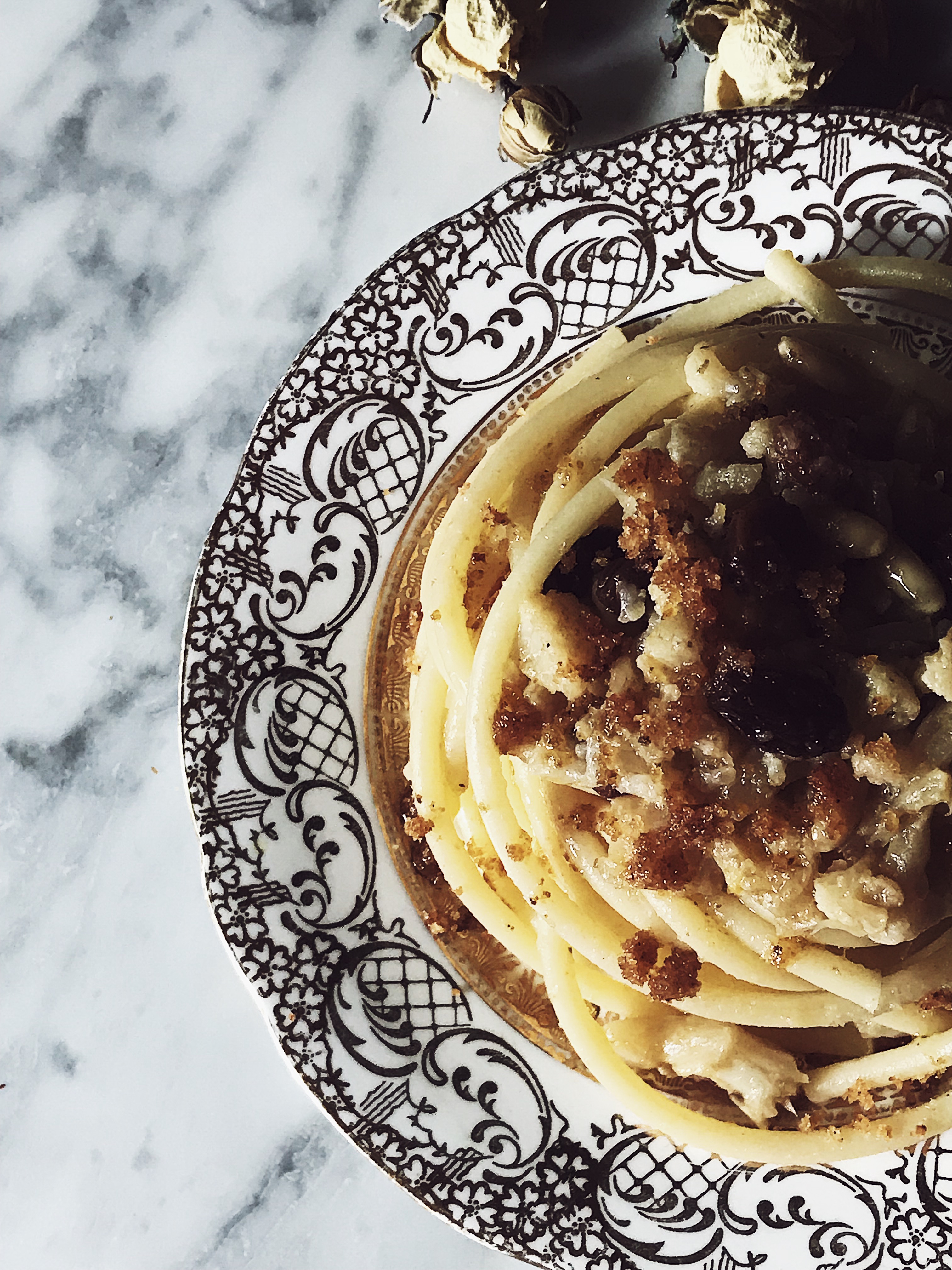 FROM THE ITALIAN COLORS NEWSLETTER:
"Hello lovely gourmands!

Are you hungry?

You will be when you finish reading my list of Palermo's must-try street foods!

Let's start with one that will sound weird but is delicious: Pani cà meusa = spleen sandwich! I know it sounds terrible if you are not used to innards, but believe me, the long cooking process, the lard, and the final lemony touch make it a delightful foodie experience.

If you can't go for it, opt for the "panelle" sandwich. Panelle are chickpea flour fritters, simple, tasty, and nourishing…"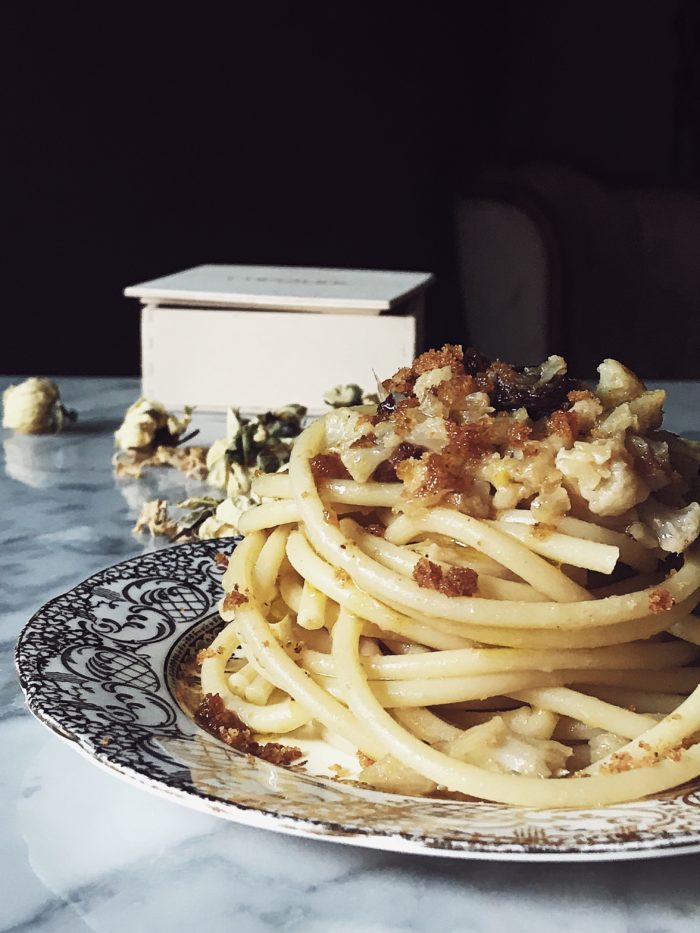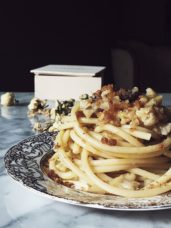 Sicilian pasta with cauliflower and raisins
Ingredients
1

cauliflower head

1

tablespoon

of extra virgin olive oil

3

anchovy fillets

1

tablespoon

pine nuts

15 gr - 0.5 oz

2

tablespoons

of breadcrumbs

1/2

white onion

1

pinch

of saffron pistils

1

tablespoon

raisins

15 gr - 0.5 oz

5.6-7

oz

pasta (bucatini)

160-200 gr
Instructions
Cut out the cauliflower florets and cut them in 3-4.

Bring a pot of water to a boil and add a few teaspoons of salt. Boil the cauliflower 15 minutes.

Peel and finely chop the onion.

In a large skillet, heat a tablespoon of olive oil. Add the onion and sauté until golden brown. Add the anchovies and mash them with a wooden spoon.

Add the (drained) cauliflower, the pine nuts, and the raisins, mix and cook a few minutes.

Dissolve a pinch of saffron pistils in 1/4 glass of hot water and add it to the skillet. Mix and cook a few more minutes.

Mash the cauliflower with a fork (or a potato masher).

Bring a pot of salted water for the pasta to a boil.

In another small skillet heat a tablespoon of olive oil and toast the breadcrumbs until golden brown.

Cook pasta according to package directions.

Season it with the cauliflower mix, plate it and sprinkle it with the toasted breadcrumbs.

Serve the pasta with cauliflower hot.
Enjoy your healthy and delicious Sicilian pasta with cauliflower!
Claudia