Pomegranate icing recipe: a DIY natural food coloring recipe for frosting cakes, cupcakes, and cookies.
Pomegranate icing is made with natural, colorful, healthy pomegranate juice. Just that and sugar. 
Besides the DIY natural food coloring – pinkish color –, pomegranate's full-flavored juice gives an unusual and festive taste to the icing.  
I added, but you can skip it, black pepper: a gourmet touch, to make my Christmas cookies even more exciting.
This is the first recipe of The Christmas Bakery Project, the result of pomegranates sighted in the fruit basket and pepper forgotten on the kitchen table.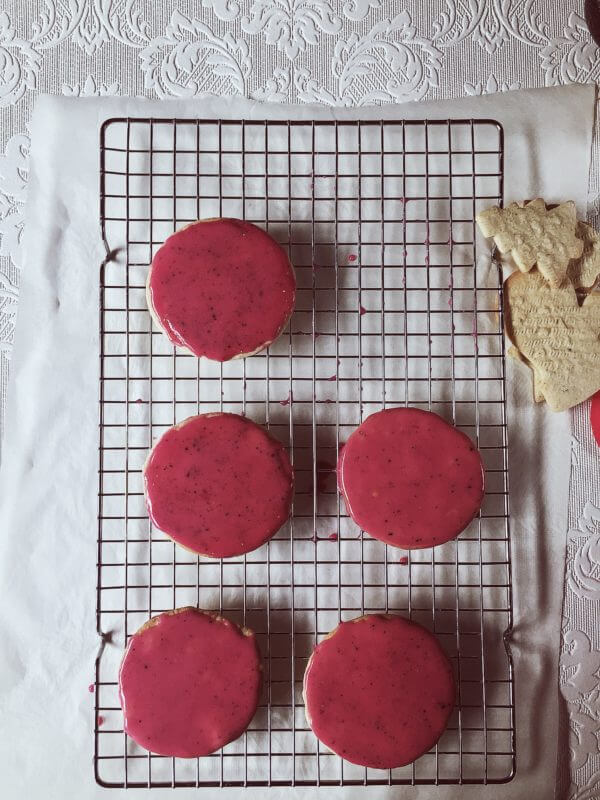 pomegranate cookie icing
Ingredients
1

cup

confectionary sugar

½

glass

juiced pomegranate

use an orange squeezer

black pepper

optional
Instructions
Season the pomegranate juice with black pepper. I like it spicy, so I added almost 1 teaspoon to the half glass of juice.

Place the confectionary sugar in a bowl. Add the juice, one teaspoon at a time, stirring vigorously. Stop adding when you get a creamy yet firm consistency.

Ice the cookies and eventually decorate them with sprinkles.
Do you need a foolproof sugar cookies recipe?
Sure.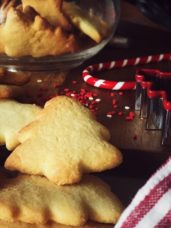 sugar cookie recipe
Ingredients
4

oz

butter

113 gr - ½ cup

7

oz

sugar

200 gr - 1 cup

1

egg

8

oz

all purpose flour (but if you find 00 flour...)

227 gr - 1 + ¾ cups

1

teaspoon

baking powder

1

tablespoon

milk

½

teaspoon

vanilla extract

¼

teaspoon

salt
Instructions
Preheat oven to 350°F (180°C).

Cut the butter in pieces and place it and the sugar in the mixer - dough hook on.

Work until the butter softens, but not furtherly.

Add all the other ingredients and mix for about 5 minutes.

Work the dough with your hands. Check that all the ingredients are well mixed and form a ball. If the dough is too runny to form a ball - this happens when the butter has warmed up too much -, add flour, a little at a time until you get the desired consistency. The less flour you add, the softer the cookies.

Wrap the dough in plastic and place it in the freezer for half an hour. Or in the fridge for an hour.

Roll out the dough and cut out your cookies. Make sure you abundantly flour the working surface, the dough, the cookie cutters, and the rolling pin to avoid sticky disasters. But again, the less you use, the softer the cookies.

Bake the cookies for 10-12 minutes, until golden.
Enjoy your pomegranate cookies.
Claudia