Sausage pasta recipe from Rome: pasta alla zozzona, the dirty pasta of Castelli Romani.
Zozzo, in Roman dialect, means dirty, extremely dirty. So when Romans eat or cook something greasy, overly stuffed, kind of improvised, they say it is "alla zozzona" (= the dirty way). Late night young people consuetudes, for example, include the "panino dallo zozzone": not-at-all-fancy food trucks with enormous men grilling hamburgers or sausages, and stuffing panini with whatever they have in their mobile pantry (including pickles, ketchup, mayo, mustard… not necessarily opting between one and the other). If you ask anyone who's the most notorious of them all, they'll answer the one at Ponte Milvio, Giorgione lo zozzone. The pasta alla zozzona recipe is the homemade equivalent dish: a leftovers & sausage pasta recipe typical of Castelli.
Imagine you've made a Carbonara on Monday (and got eggs to be consumed within the week), Amatriciana on Thursday (and got guanciale and tomatoes), and Gricia on Friday (onion, cause sometimes we do put onion in gricia)… what are you going to make on Sunday? This tasty sausage pasta recipe: Rigatoni alla Zozzona!
But, really, don't do that, you can't eat all that zozzo stuff in a week or you'll looose your mind (and guts) :-).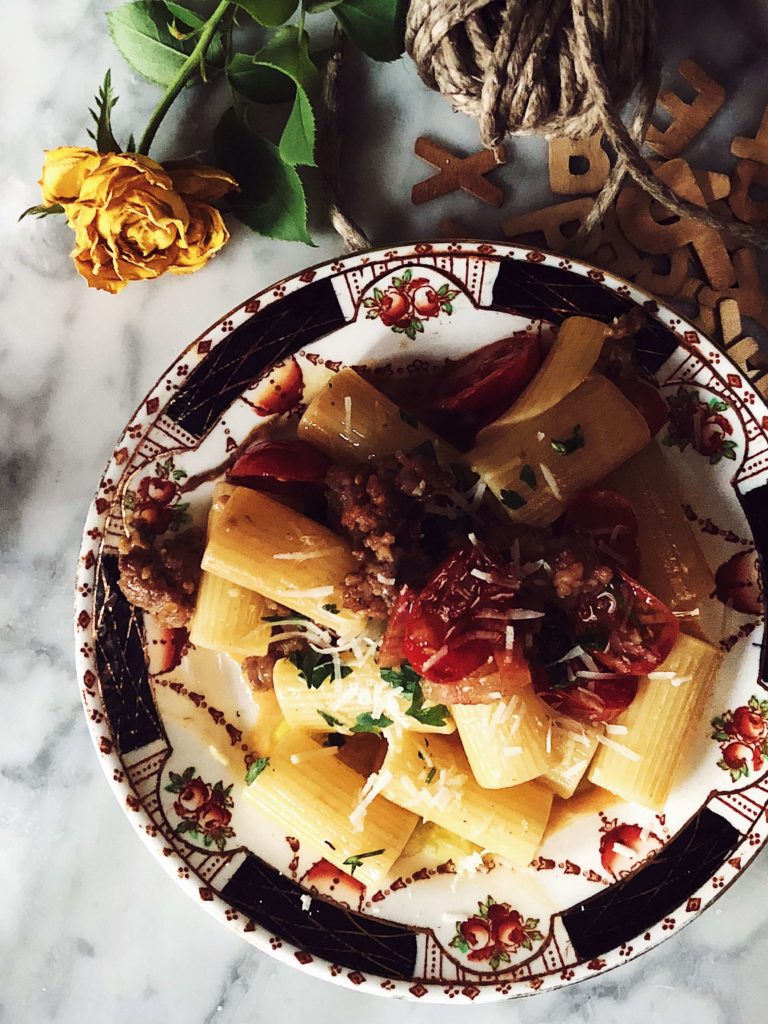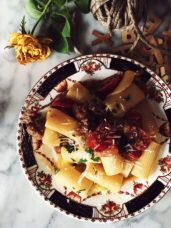 sausage pasta recipe: pasta alla zozzona
Ingredients
7

oz

rigatoni pasta

200 gr - 2 cups

3,5

oz

pancetta or guanciale

100 gr - about 4 slices

3,5

oz

tomatoes (cherry or sauce tomatoes)

100 gr - 1/2 cup

1

Italian sausage

1

onion

1

teaspoon

extra-virgin olive oil

1

tablespoon

grated pecorino

1

egg yolk

2

tablespoons

of milk
Instructions
Peel and coarsely chop the onion. Dice the pancetta and peel and chop the sausage.

Cut tomatoes in 4, or more if you are using big tomatoes instead of cherry.

Heat the olive oil in a medium/large pan and add the chopped onion, the pancetta, and the sausage. Cook a couple of minutes or until the sausage is completely cooked. Add tomatoes, a pinch of salt and pepper, and cook, medium heat, for about 10 minutes.

Meanwhile, bring pasta water to a boil.

Mix the egg yolk, cheese, and milk in a large bowl.

Once the pasta is cooked, drain it and pour it into the skillet, sautè a couple of minutes, turn off the heat and add the yolk and cheese mixture.