Capri's Simposio is a traditional and authentic travel cookbook from Italy. Expect classic and modern recipes, awesome pics, and a lot of Italian traditions, stories, and culture.
a Capri slow travel cookbook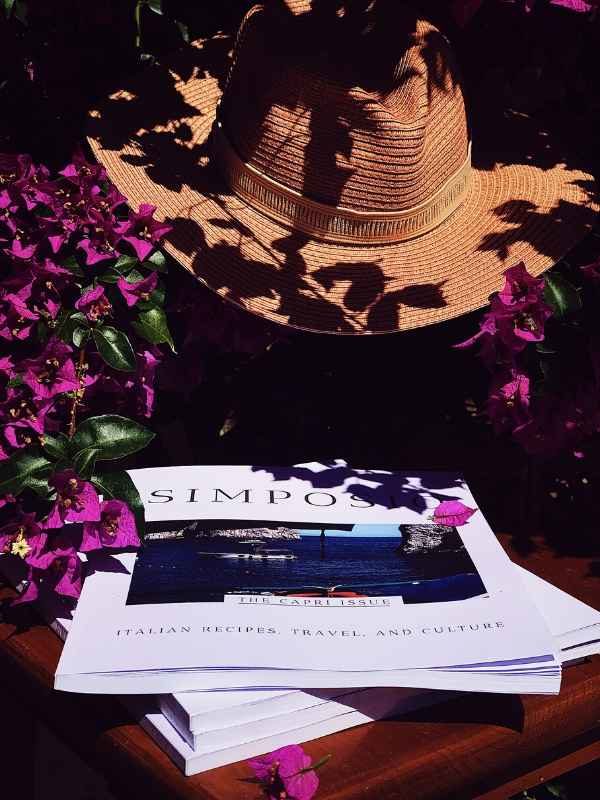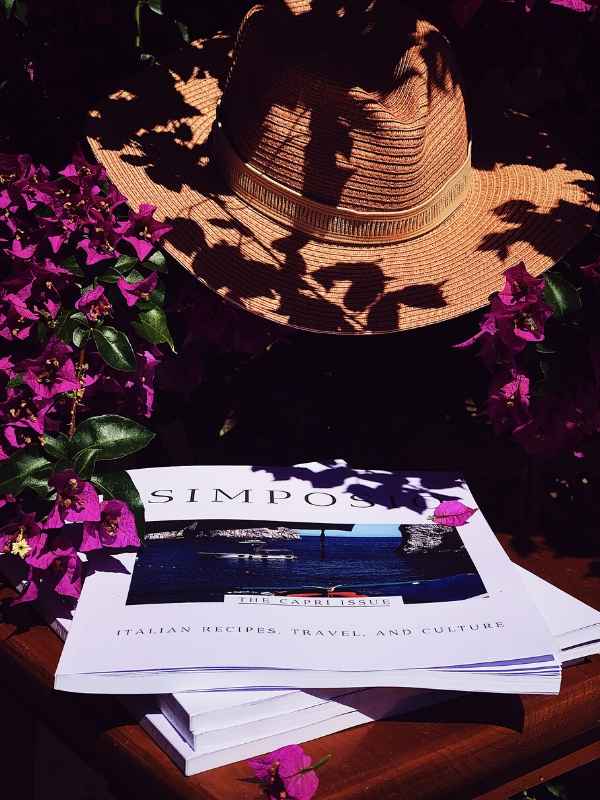 WHY A CAPRI TRAVEL COOKBOOK
If I were asked to describe Capri, I would say it is a sunkissed moon.
Those dark rocks coming out of a deep blue, dark, almost metallic sea. The light that illuminates the water: flat, calm, with a moonstone sparkle. 
Usually, the sea gives you special permission to come in. You must break in, through the foam of the waves, through the force of the dense liquid. 
In Capri, the sea calls you in, come dive in. I will swallow you. I'll embrace you. Come. 
It is a little frightening: it's so deep, will you be able to reemerge? Yet you cannot oppose yourself. The mermaids are singing, and you're not armed like Ulisse.
The sun is welcoming, clear, and blunt; you look for it when you are in doubt. The moon is dark and melancholic; you tend to avoid it… until it seduces you, and you can't help but plunge. After that first, exhausting challenge, you are bound forever: it changed you, and there's no going back. You'll enjoy the sun and have fun during the daytime, but you will live at night.
Capri is a moon in disguise as a sun.
Enjoy Capri's Simposio, a unique lunar travel cookbook!
Claudia
A COOKBOOK FROM ITALY
The Simposio travel cookbook series is made in Italy by an Italian author. Then printed and distributed locally.
The authentic, traditional, classic, and modern recipes are researched in loco and framed by local stories, personal anecdotes, beautiful pictures, and Italian culture and folklore.
Capri's authentic, traditional travel cookbook
inside Capri's Simposio: authentic and traditional recipes from Italy, stories, folklore, and culture
THE INDEX:
06 Welcome To Capri
08 Bucket List
10 Capri
12 Piazzetta
14 Anacapri
18 Casa
24 Splash
30 La Sera
36 San Michele
42 The Island of Sirens
46 The Island of Paganism
50 The Island of Slander
54 The Island of Style
58 The Island of Food
62 Figs Appetizer: Fichi e Ventresca
64 Spaghetti alla Ciammurra
66 Clams and Lemon Pasta
70 Chiummenzana Spaghetti
72 Pasta e Cicerchie
74 Ravioli Capresi
78 Aumm Aumm Pennette
80 Basil Mussels
82 Squid & Potatoes
84 Caprese Salad
86 Monacone Stuffed Pizza
90 Lemon Salad
92 Caponata Caprese
94 Torta Caprese
96 Anacaprese Cake
98 Caprilù Almond Cookies
100 Limoncello
102 A Witch's Story
106 Lavender
108 Lavender Wax Tablets
110 Lavender Oil
112 Lavender Water
114 The Italian Summer
124 A Stargazing Menu
126 Pasta Salad
128 Arugula And Parmesan Carpaccio
134 Napoli's Sangria
130 Lavender Meringues
134 Negroni
136 Negroni Classico
138 Negroni Sbagliato
ready for a Capri adventure?