Italian soffritto recipe, soffritto uses, and freezing tips.
The soffritto recipe is a mix of chopped vegetables pan-fried in olive oil.
Soffritto uses are innumerable in Italian cuisine: tomato sauce, minestrone, risotto, meat and fish dishes, and more. So it is mandatory, for an Italian cook, to know how to make soffritto. Depending on the recipe, you might use a white onion, a shallot (milder), a red onion (stronger), or a garlic clove (utterly different flavor, usually paired to white meat, fish or vegetables).
I'm giving you the basic Italian soffritto recipe and tips to store it, so you can chop soffritto ingredients once, in batches, and have it at hand for all your future needs.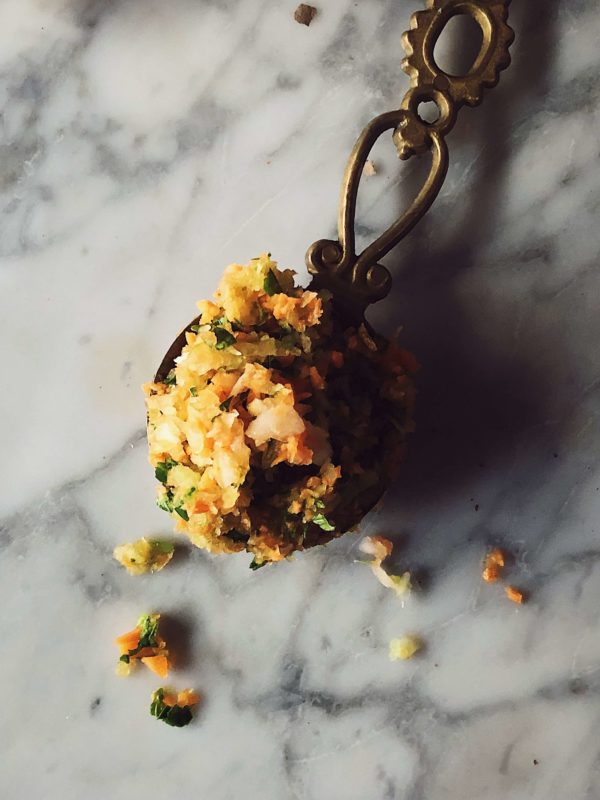 Italian soffritto recipe
basic soffritto recipe for Italian dishes
Ingredients
1

carrot

1

white onion

or 1 shallot or 1 garlic clove

1

celery stalk
Instructions
Peel and chop all the ingredients as finely as possible.

You should chop them with a knife, cause the food processor heats them, and this might affect their flavor. But, honestly, I always use the food processor, unless I'm doing a tiny quantity.

When you are ready to cook, heat a couple of tablespoons of extra-virgin olive oil in a pan or pot, and sautè the soffritto for about 5 minutes, medium heat, being careful not to burn the onion.
Recipe Notes
This quantity is enough for 2-3 recipes (of two servings each)
make soffritto ahead of time and freeze it
You can duplicate the quantities of the soffritto mix recipe and have it at hand, in your freezer.
To freeze your soffritto, line a tray with parchment paper, scoop out balls of soffrittto with an ice cream scoop, and display them on the tray.
Freeze a few hours.
Transfer the single portion balls to a freezer friendly bag and return to the freezer. Store up to a couple of months.
When ready to use your soffritto, heat a couple of tablespoons of extra-virgin olive oil in a skillet, add the soffritto ball and sauté as usual, it will merely take a few minutes longer to brown it (you may fasten things by pressing and smashing the ball with a wooden spoon!).