The cheesy, delicious and authentic cacio e pepe recipe from a kitchen in Rome.
The traditional Roman cacio e pepe is a triumph of intense and pungent flavors, combined into a creamy sauce that hugs spaghetti and explodes in your mouth, especially if you don't mind abounding in pepper. 
Pictures and recipe are from the Red & Orange Simposio cookbook.
What's Cacio e Pepe
Cacio e Pepe is a traditional Roman pasta dish made with cheese and black pepper. The cheese is worked into a cream that enfolds spaghetti and is seasoned with abundant pepper.
The history of Cacio e Pepe: where did Cacio e Pepe originate
Cacio e Pepe is an ancient pasta recipe. Its origins go back to when shepherds of the Agro Romano, the countryside around Rome, had to carry their lunch ingredients with them. During transhumance, the contents of their sacks were dried spaghetti (for carbs and energy), pecorino cheese (for flavor and proteins), and black pepper (to heat them up).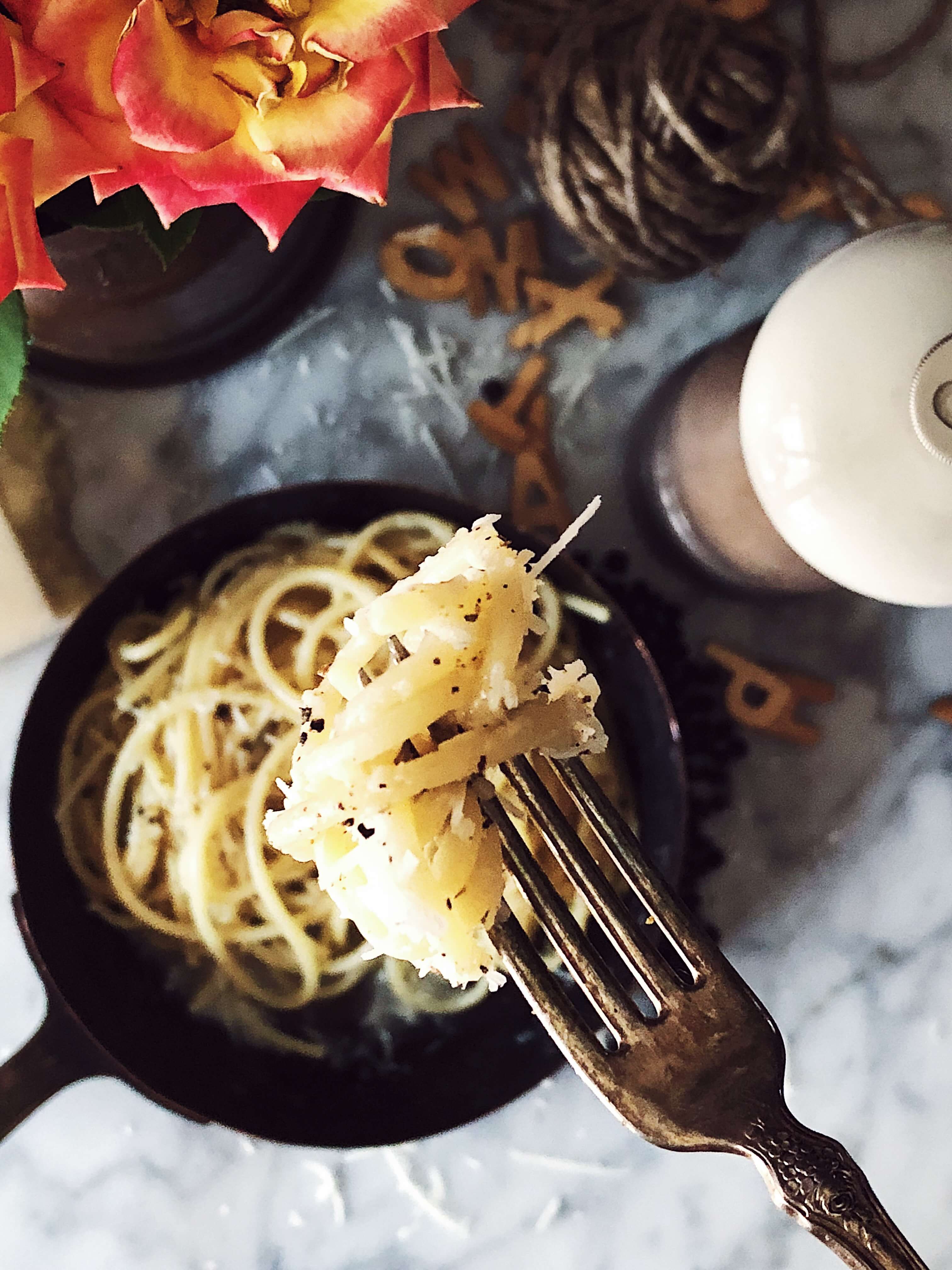 The authentic, original, traditional recipe or how to make Cacio e Pepe like a Roman
The real secret for making Cacio e Pepe like a Roman is practicing. I have friends who make it again and again in a perpetual competition to earn the title of master Cacio e Pepe cook. Knowing your kitchen, your ingredients, and even the water in your house will give you those sublime results. So practice, experiment, and take your time for each step: from grocery shopping to sauteing.
To start, here is some useful information.
Cacio e Pepe ingredients
As mentioned, Cacio e Pepe ingredients are only three: spaghetti, althoough in other central regions like Tuscany and Umbria, you will find Cacio e Pepe made with Pici;
cheese (Cacio is the local word for cheese), we are talking of Pecorino Romano;
and black pepper, freshly grated, of course.
How much cheese for Cacio e Pepe
Following is the Cacio e Pepe recipe for two. The quantity of cheese indicated is proper for a creamy and cheesy condiment. Consider that you'll add the starchy pasta cooking water, which will do the trick.
How much pepper for Cacio e Pepe
Pepper, as anticipated, is abundant in Cacio E Pepe: a teaspoon and a half for two servings is the starting point. You can, of course, adapt to your palate.
Why is Cacio e Pepe so hard to make: why does it clump
No, Cacio e Pepe is not a difficult recipe, but you must learn a few tricks and be fast. Once the pasta is cooked, you must drain it and add it, still hot, to the pan. Starchy water is the other mandatory step to get creamy results and avoid clumps.
There's no cooking in advance for Cacio e Pepe, apart from grating the cheese and grinding the pepper, and, honestly, you don't need it.
One reason for getting lumps, please note, is the cheese aging: too mature might be tricky to work with.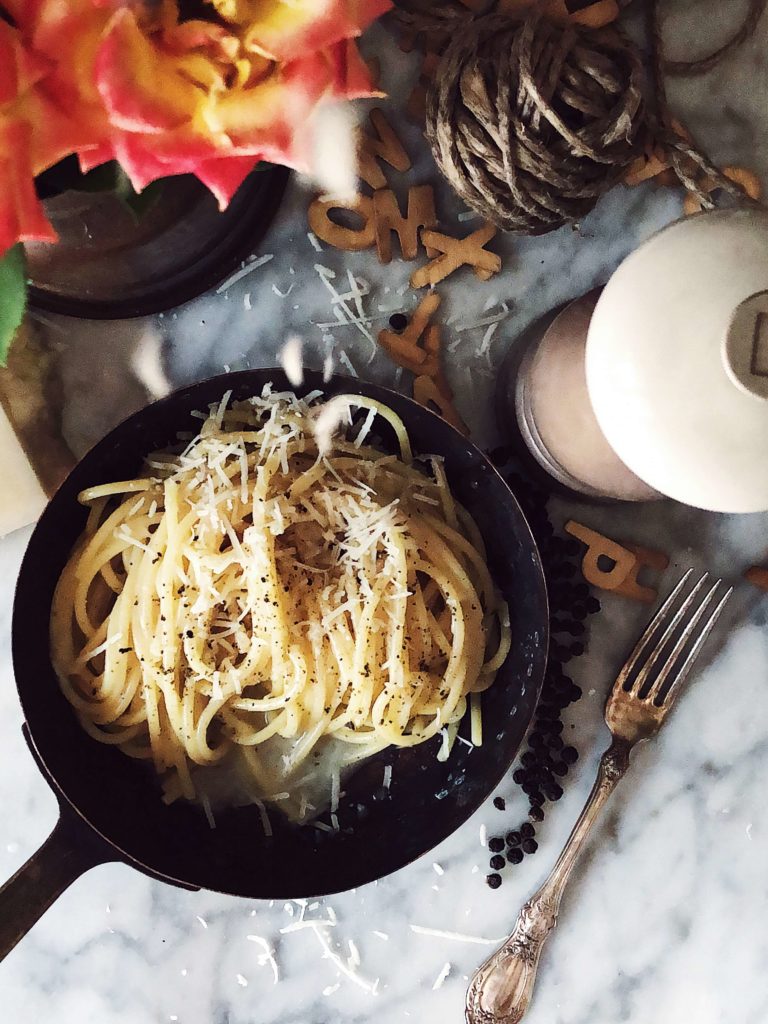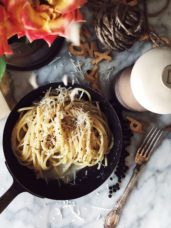 authentic cacio e pepe
A creamy cheese sauce with a lots of black pepper.
Ingredients
7

oz

spaghetti

200 gr

1.7 oz

gr

pecorino romano cheese

50 gr - 1/2 cup

1.5

teaspoons

black peppercorns

5 gr

salt
Instructions
Bring a big pot of salted water to a boil - about two liters (half a gallon) and one tablespoon of salt.

Meanwhile, grate the pecorino cheese and grind the black pepper.

In a large pan, place the pepper and heat it for a couple of minutes. Turn off the heat and set aside. 

Add the pecorino cheese to the pan.

Toss the pasta into the boiling water and cook it for one or two minutes less than the "al dente" instructions.

A minute before the pasta is done, take one scoop of the cooking water and pour it into the cheese pan. Mix well with a wooden spoon.

Turn on the heat of the pan - high - and, using tongs or a big fork, transfer the pasta into it.

Mix the pasta until it is completely seasoned with the cheesy cream and you see the first bubbles form.

Serve immediately seasoned with more pecorino and pepper as per your taste.
Enjoy your authentic cacio e pepe recipe!
Claudia