The Red & Orange Simposio is an Italian Fall recipes cookbook. Join us in exploring Rome's Christmas and Italian fall culture through recipes, desserts, stories, traditions, and the local folklore. Give your festive lunches, dinners, and snacks an authentic Italian touch!
This cookbook is filled with love, food, and coziness.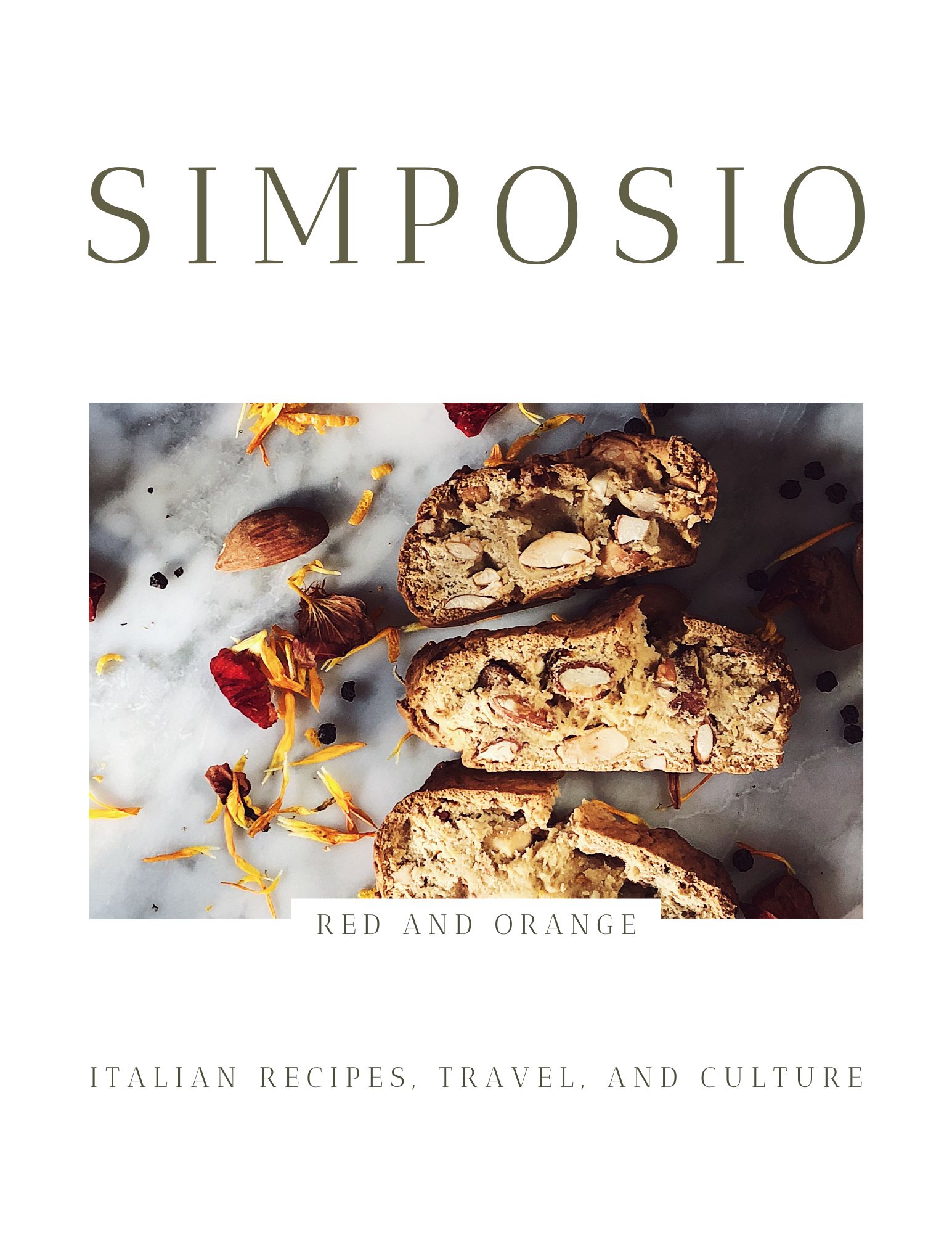 A COOKBOOK DEDICATED TO ROME'S CHRISTMAS AND ITALIAN FALL CELEBRATIONS
The Red and Orange Simposio is a fall and Christmas cookbook dedicated to Rome's most intimate essence. Without leaving other parts of Italy and their seasonal folklore out!
In this travel cookbook, you'll find regional and traditional recipes for lunch, dinner, dessert, secret places in Rome, and dreamy pictures. Plus, Roman pasta dishes, a Roman poet, cookies, chestnuts, and pomegranates.
an Italian Fall slow travel cookbook
A ROMAN CHRISTMAS TRAVEL COOKBOOK
Ready to explore Rome like a local? The Red & Orange Simposio will be your guide, host you for dinner, make you dessert, and dedicate you a poem!
– made in Italy, printed locally
THE INDEX:
06 Welcome To Italy
08 An Italian Bucket List
10 Villa Farnesina
22 Arance
24 Antipasto Molisano
26 Spinach And Orange Salad 28 Pepatelli Biscotti
32 Orange Cream
34 Trilussa
38 Cacio E Pepe
42 Carbonara
46 Chickpeas And Pasta
50 Pasta Alla Zozzona
54 Festa dei Morti
56 Fave dei Morti
60 Ossi dei Morti
64 Piada dei Morti
70 Papassini
74 A Cookie Board
76 Castagne
78 Tuscan Castagnaccio
82 Chestnut Cake
84 Chestnut Trofie Pasta
86 San Martino
90 Prosciutto Cotto Mousse 92 Salvia Fritta
94 Saffron Honey
96 A Fall Tablescape
98 Melograno
100 Pomegranate Risotto
104 Tintoretto Cocktail
106 Grano Dei Morti Or Colva 110 Natale A Roma
116 Stracciatella Soup
118 Gift Wrapping Idea
122 Lesso Alla Picchiapò
126 The Befana Stocking
130 Christmas Games
132 Pangiallo
136 Christmas Trees
138 Loti Or Cachi
140 Persimmon Crumble
142 Persimmon Jam
144 Champagne Persimmons
Boil the water for a comforting tea or heat the milk for a foamy cappuccino; put on your favorite playlist, and sink into the sofa. Your cozy Italian moment of pleasure is about to begin!
Claudia