Ciao! Today I'm sharing the authentic Carciofi Alla Romana recipe from Rome: artichokes stuffed with mint and breadcrumbs, then slowly cooked until tender and delicious.
CARCIOFI ALLA ROMANA: ITALIAN MEMORIES
In my vegetarian youth, veggies were a main dish, not a side dish, and it was not uncommon for me to get very excited for the eggplant parmigiana or the artichoke nights.
For example, my mom's delicious Carciofi Alla Romana night. That day we sat at the table and found artichokes with their crispy leaves and juicy condiment, fresh bread, and a salad. 
We were allowed, for the occasion, to use our hands to pick a leave at the time, bite it and suck all the flavor out of it. 
When finished, we could also collect the remaining juices with bread, a memorable scarpetta.
It was a ritual. And it was a great (and a little primordial) food experience.
Every time I make Carciofi Alla Romana, and I enjoy this simple, delicious dish, I thank fate for coming from a vegetarian family. Pescatarian, to be more precise. Thanks to my parents, I grew up discovering the pleasures of a vegetable dish, the flavors of fresh ingredients, and the infinite possibilities behind any cabbage head or artichoke flower.
THE AUTHENTIC ITALIAN CARCIOFI ALLA ROMANA RECIPE
This is the authentic Roman-style Carciofi Alla Romana recipe, with just a little of my kitchen creativity (which you can skip if you are a purist).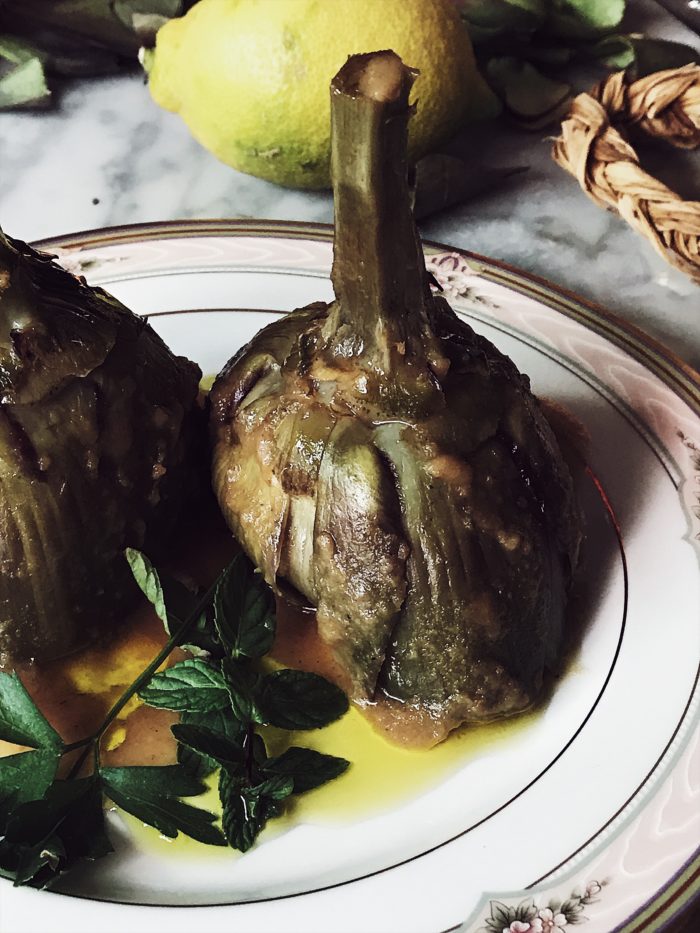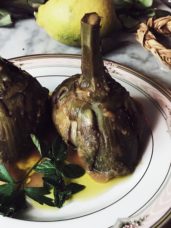 Carciofi Alla Romana
Ingredients
2

artichokes

2

tablespoons

extra-virgin olive oil

1

lemon

juiced

1.7

oz

breadcrumbs

50 gr

1/2

garlic clove

1

sprig

mint

pennyroyal

1

sprig

parsley

1 tablespoon

2

tablespoons

bay leave liquor or any herbal liquor

Cynar would be great - optional but tasty!

sea salt
Instructions
Clean the artichokes. Cut off the top of the stems. Peel the stems. If very long, cut them into medium pieces - and cook them together with the artichokes. Snap off the dark-green outer leaves. I keep most of them cause they're delicious to dip in the final sauce, chewing away the little pulp they have.

Cut off the peak of the artichokes so you don't have hurty spikes.

Use your hands to open the artichoke hearts and scoop out and discard the inner beard.

Place the artichokes in a bowl filled with water and the lemon juice (to prevent oxidation). Leave them there while proceeding with the next steps.

Grind the breadcrumbs together with the parsley, mint, garlic, and a pinch of salt. Add the olive oil - and the liquor, if using - and mix.

Drain the artichokes and help yourself with a spoon to fill the hearts with the previously made mixture.

Place them in a medium pot upside down. Pour enough water to cover half of the artichokes' heads. Sprinkle with 1-2 pinches of salt, and add the remaining mixture.

Cover and cook over medium heat for 20-25 minutes (use a skewer to check if the inside is tender).
Recipe Notes
Serve hot or at room temperature with lots of toasted Italian rustic bread.
Enjoy your delicious Carciofi Alla Romana!
Claudia