In this post, I'm sharing with you the Tuscan recipe for chicken pasta in tomato sauce.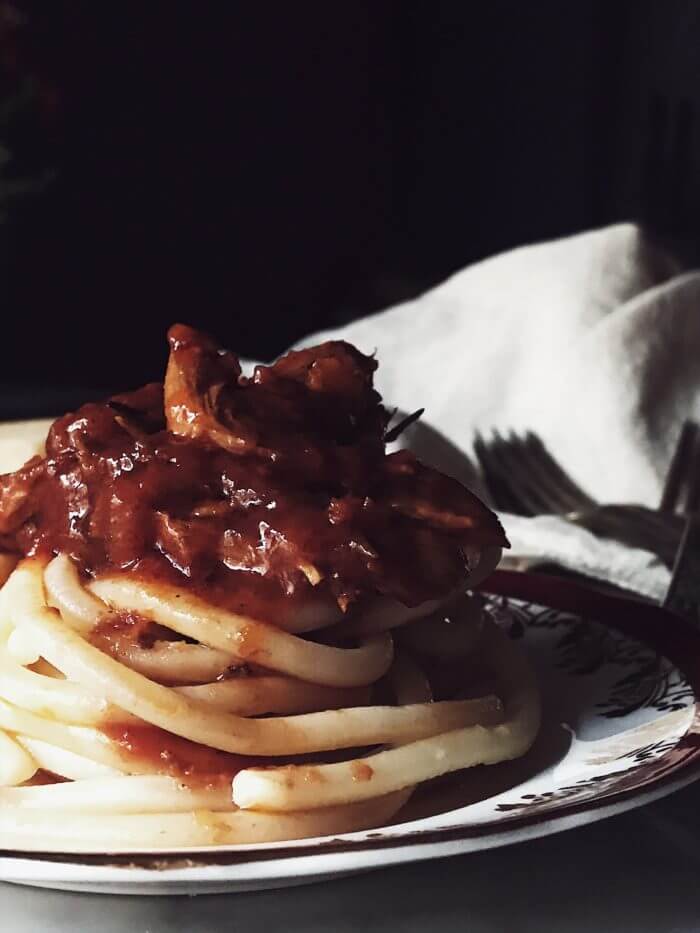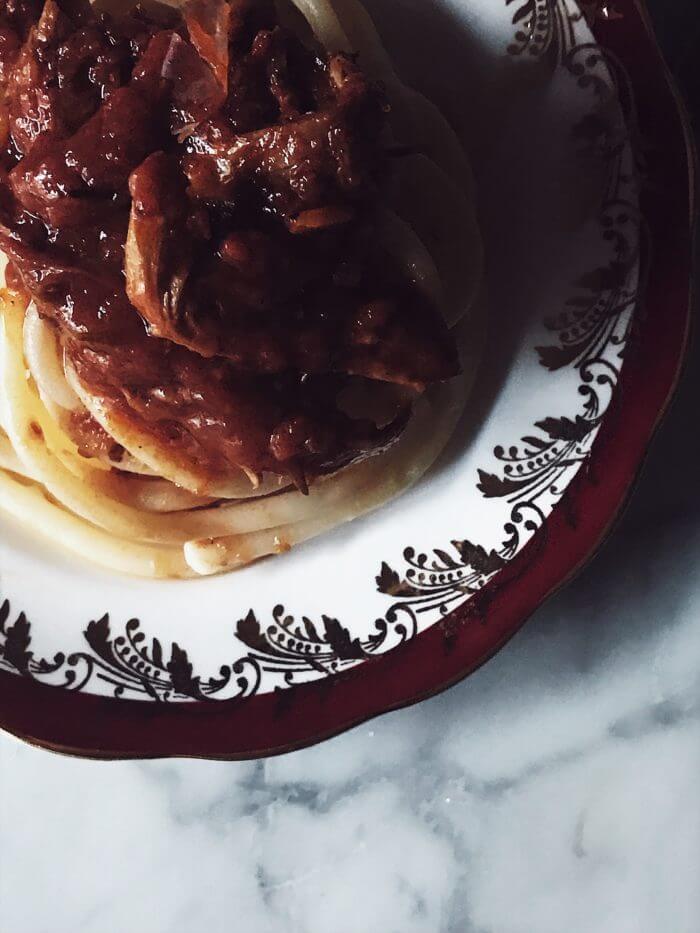 A RECIPE LEARNED IN TUSCANY
This chicken pasta recipe, called Sugo Di Gallinella, comes from Tuscany. It is a slowly cooked chicken pasta sauce. 
Every time I make it, I remember the lovely people that gave me the recipe: the owners of Il Leccio, a restaurant in Val D'Orcia. These persons not only nourished us with superb dishes made with simple and local ingredients but became good friends and drinking pals in one day (and one night).
HOW TO MAKE AND SERVE THE TOMATO CHICKEN PASTA
Tomato chicken pasta is made with fresh and local ingredients: free-range chicken, tomato sauce, and herbs.
To make the chicken sauce, you don't need expert skills, nor expertise, just time. And a little patience. All worth a superb dinner.
I'm making it for my Italian Thanksgiving, followed by the pancetta mashed potatoes and gravy, and the sausage stuffing with pandoro!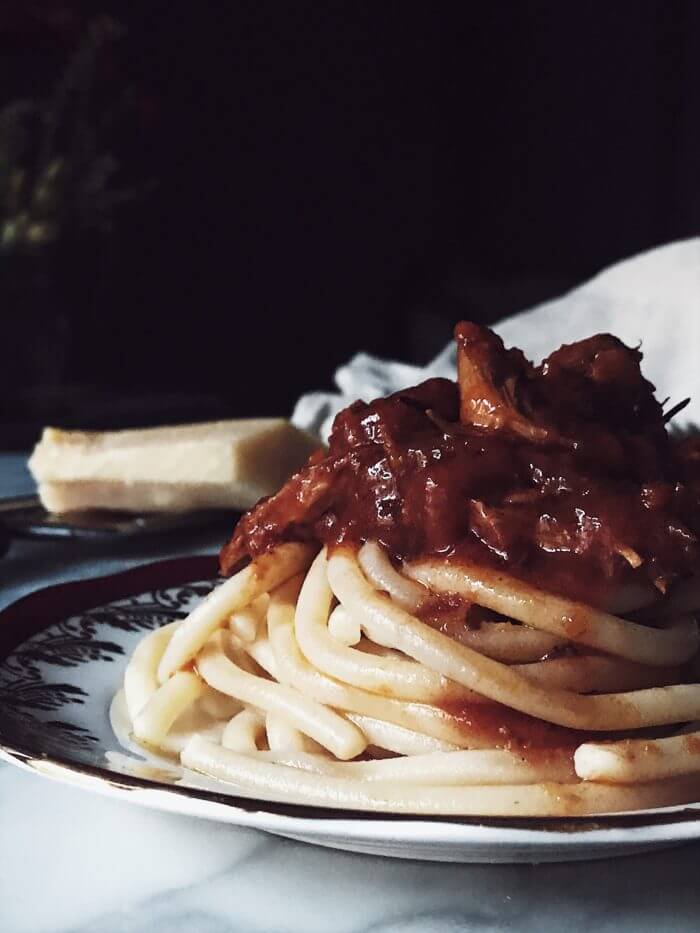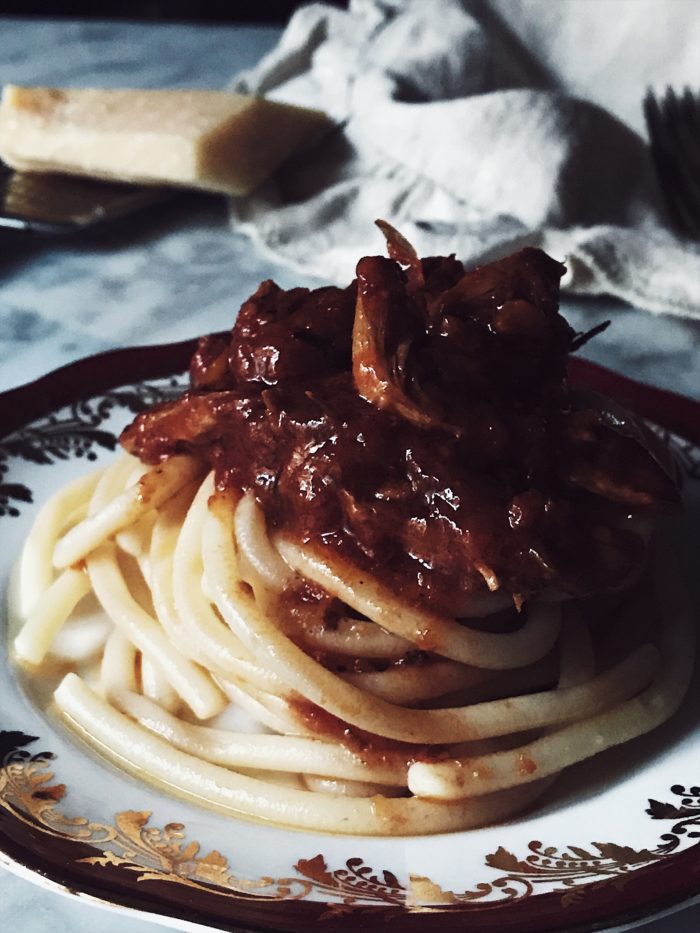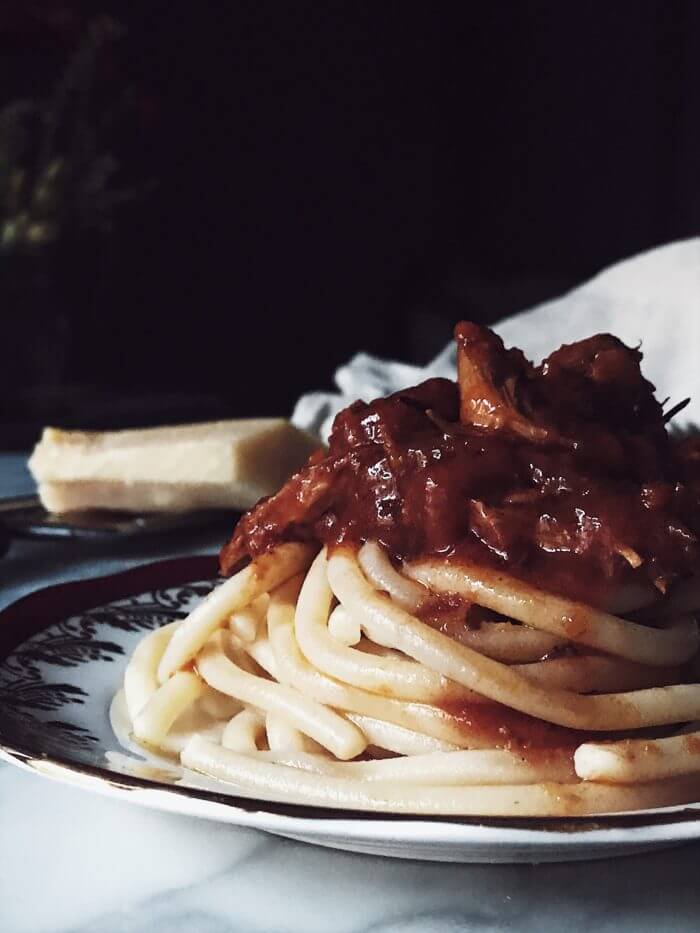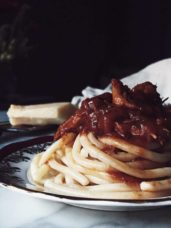 chicken pasta tomato sauce recipe
Ingredients
2

chicken legs

1

carrot

1

celery stalk

4

garlic cloves

1

medium onion

4

tablespoons

of extra-virgin olive oil

1

long sprig of rosemary

8

sage leaves

big and small mixed

4,5

cups

of tomato puree
Instructions
Peel, if necessary, and finely chop carrot, celery, onion and two of the garlic cloves. Place them in a large pot, add the olive oil and brown, on a medium/low heat, for about 15 minutes.

Add chicken, tomato, rosemary, sage and the other two, unpeeled, garlic cloves. Cover and cook, lid on and over medium heat, for an hour (until the meat easily comes away from bones).

Remove the chicken legs, rosemary, sage and the garlic cloves (to tell the truth, I didn't find them, guess they dissolved in the sauce).

When the chicken is cold enough, remove all the meat and place it in a bowl. Shred or chop it (with a fork or a hand blender) and return it to the pot. Cook, over medium heat, for 10 minutes (I added 1 cup of water).

Add salt, pepper and hot pepper to your taste and season pasta. If you find Tuscan pici, you'll have an authentic bite of Tuscany.
Enjoy your chicken pasta tomato sauce!
Claudia