The authentic eggplant parmesan recipe from Italy. Make the eggplant parmigiana on a day you want to pamper yourself with real Italian comfort food.
The Italian Eggplant Parmesan
There are a million variants of the authentic eggplant parmesan recipe because every mom and nonna have their own family recipe, led by the region they live in and the produce they have on hand.
Making the Italian eggplant parmigiana can look like a big challenge. But don't worry, as long as you are using fresh and seasonal ingredients, real passata, mozzarella, and parmesan cheese, chances are, you'll get a greedy, spectacular, delicious dish.
This is my family fried eggplant parmesan. It's the simple, basic one. The eggplants are fried in olive oil, and we add just mozzarella, tomato sauce, and parmesan cheese.
In the traditional Italian eggplant parmesan recipe, eggplants are fried, adding a crisp texture to the dish: they contrast the sweetness and meltiness of the cheeses and the sauciness of the tomato sauce. When baked together, something magical happens!
But depending on regions and family traditions, you may find several variations:
some dip the eggplants in egg and flour before frying them;
some add prosciutto cotto or mortadella;
some use provola instead of mozzarella;
some peel the eggplants – you lose the bitter taste, which, to me, is part of the complex and delicious flavor;
some grill the eggplant slices instead of frying them (6-10 minutes per side, depending on how thick they are) – a healthier option.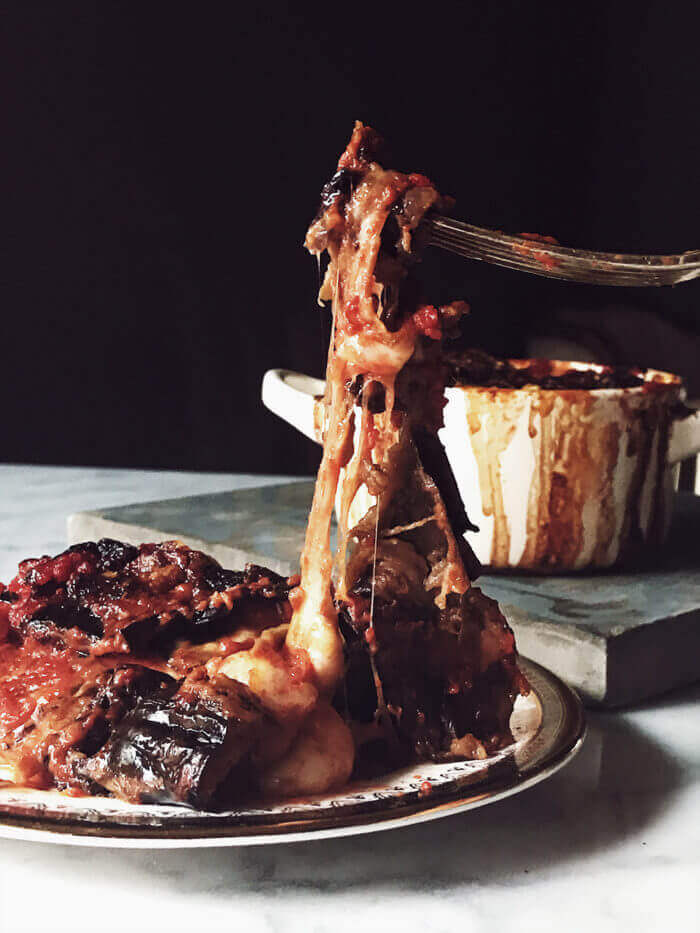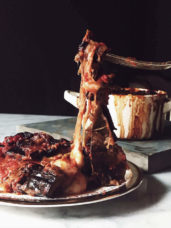 authentic eggplant parmesan recipe
Ingredients
for the frying
1/4

cup

of olive oil

2-3

medium eggplant

salt
for the sauce
2

tablespoons

of olive oil

17.6

oz

tomato passata

500 gr

2

garlic cloves

1

pinch of salt

5-6

basil leaves
plus
2

tablespoons

of parmigiano reggiano (parmesan cheese)

25 gr

½

mozzarella

fior di latte
Instructions
how to make melanzane alla parmigiana
Slice the eggplant (1 cm/0.5 inch tall). Sprinkle them with salt and place them in a colander for about 15 minutes.

Slice the mozzarella and set it, to eliminate the extra liquids, in another colander or sieve.

Grate the Parmesan cheese.
frying
Heat the olive oil in a large skillet and fry the eggplant slices, a couple of minutes on both sides, (or until golden brown).
grilling option
Grill the eggplant slices on a hot grilling pan, brushed with a teaspoon of olive oil.

Grill 6-8 minutes per side until well done.
sauce
Heat the olive oil in a medium/large skillet. Peel and crush the garlic cloves and brown them in the olive oil.

Remove the garlic and add the passata. Cook over medium/low heat for 20 minutes. Add a pinch of salt and mix.

Turn the heat off and add the basil leaves. Mix and let rest.

Preheat oven to 200°C (390°F).
assembling
Time to assemble: you can opt for a medium-size baking sheet/casserole, or cute single serving oven pots.

Anyway, what you have to do to assemble the dish is the following:

Spread the bottom of the casserole with a thin layer of the tomato sauce and add a layer of eggplant slices.

Cover with a layer of sauce, a layer of mozzarella, and another of parmesan cheese.

Add another layer of eggplant. You might want to place some vertically and some horizontally, or just enough slices to cover the surface.

Cover with tomato sauce, add a layer of mozzarella and another of parmesan.

Finally, add a last layer of eggplant, cover it with sauce and finally, sprinkle it with parmesan.

Summarizing: sauce + eggplant + sauce + mozzarella + parmesan + eggplant + sauce + mozzarella + parmesan + eggplant + sauce + parmesan.

Bake the single or multiple casseroles 40 minutes (you should get a light crust on top).
Enjoy your melanzane alla parmigiana recipe!
Claudia