This Simposio is a Matera slow travel cookbook, a way to explore one of Italy's less known gems deeply and mindfully. Discovering Matera's traditional recipes, folk stories, incredible personalities, and ancient legends. 
In the cookbook you'll find authentic dishes accompanied by their stories, curiosities, or folklore. Each time you'll cook, I want you to experience Matera's truest essence!
A MATERA SLOW TRAVEL COOKBOOK
subscribe to the Simposio cookbook series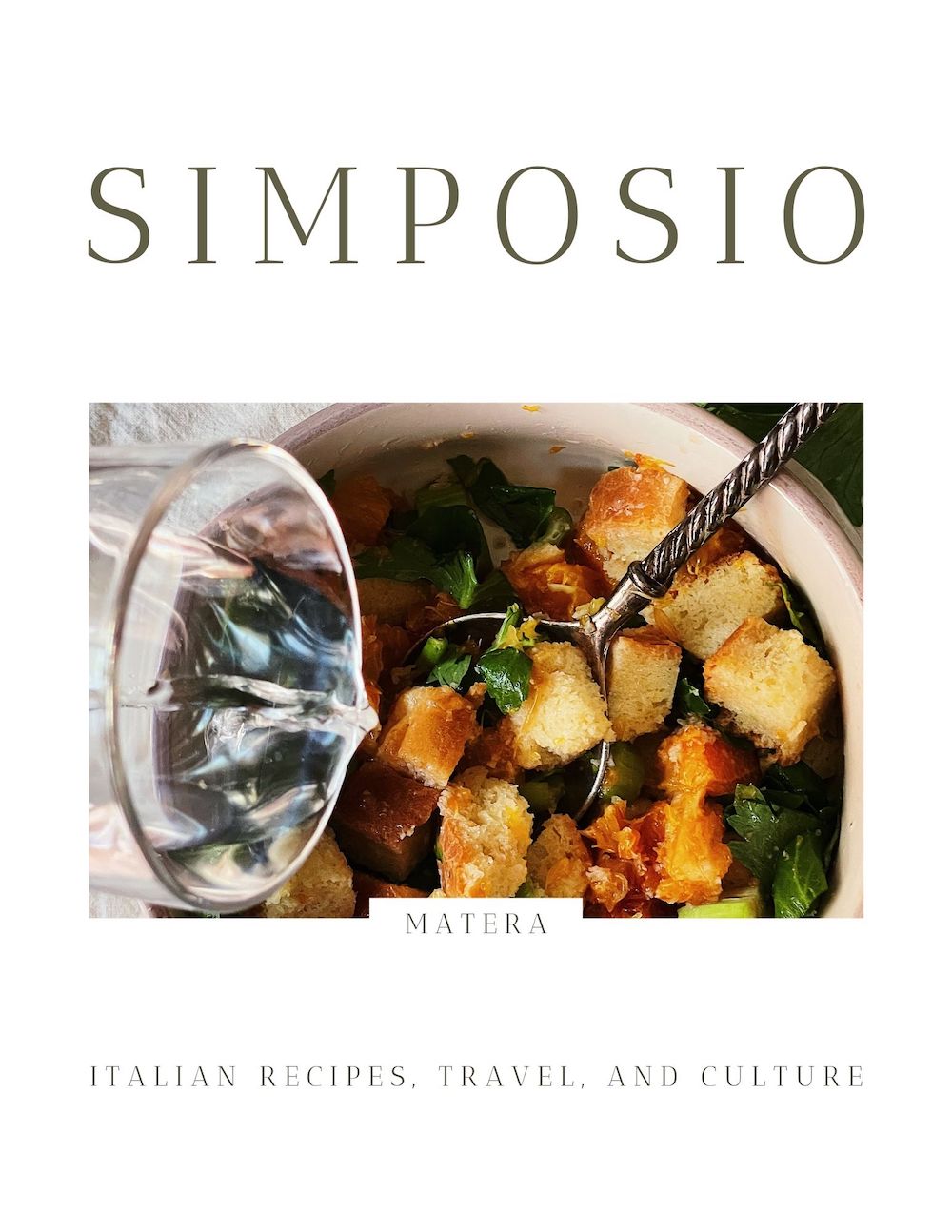 MAREMMA: COOKING, TRAVELING, AND EXPERIENCING
Welcome to Matera, Basilicata, the city of Sassi, bread, authentic recipes, intimate relationships, traditions, and mysticism. Which are the themes that will guide our exploration and our cooking adventures.
We will repurpose stale bread – a lot. Discover local ingredients and sit around a bonfire to cook and burn stuff!
We will make pasta, give it new shapes, and season it with succulent earthy seasonings.
We will meet family-owned secular businesses and visit the lab of talented crafters.
We will also play in the streets, strike, and try to catch red pointy hats. 
We will go wild with female brigands and ask witches to remove our Malocchio.
We will celebrate from January to December, even lacerating a sacred cart.
It's going to be fun; it's going to be intimate; it's going to be a new, unique experience.
Get ready to sink into poverty, let culture rescue you, reemerge stronger than ever, and give life a deeper, pulsating meaning!
Benvenuti a Matera!
Claudia
READY FOR AUTHENTIC SOUTHERN ITALY?
subscribe to the Simposio cookbook series
take a look inside Matera's SIMPOSIO TRAVEL COOKBOOK
In Matera's Simposio, you'll find:
80 and more pictures
24 authentic recipes from Matera and Basilicata
stories and legends
"monks", female brigands, and spirits
Italian culture and folklore
INDEX:
06 Welcome To Matera
08 Cooking Notes
10 Matera
16 Riti Arborei
22 A Word For Matera: Rivalsa
26 Pane Di Matera
36 Cialedda Fredda
40 Cialedda Calda
42 Orange Salad
44 Polpette Di Pane
46 Fedda Rossa
48 Matera's Treasures
52 Aglio Olio E Peperoni Cruschi
56 Acquasale Dei Pastori
58 Honey Focaccia
60 Matera's Pasta
63 Cavatelli
64 Scorze Di Mandorla
65 Taglioline
66 Pasta E Lenticchie
68 Pasta E Cicerchie
70 Amaro Lucano And The Pacchiana
72 Vicinato
76 Crapiata
78 Italian Street Games
80 Madonna Della Bruna
84 Inganna Mariti
86 The White Monk
90 St Eustachio
94 Patate Raganate
96 Wild Asparagus Frittata
98 Magic In Matera
102 Bbascanesche: Grape Delights
104 Matera's Traditions
112 Agnello In Pignatta
114 Baccalà A Ciauredda
116 Tarallo Dell'Immacolata
118 Matera's Ragù
120 Strazzate Cookies
122 Cicirata
124 Matera's Crafts
128 A Female Brigand
132 Lagane E Ceci
START YOUR ITALIAN ADVENTURE
subscribe to the Simposio cookbook series
Snuggle on the couch, pour yourself a glass of Primitivo di Matera and put on soft music – or maybe a Tarantella Lucana: your Matera adventure is about to begin!
Claudia