How to eat scamorza cheese like an Italian.
In Italy, scamorza cheese is a fast, easy, dinner dish. All you have to do is slice and bake a plain or smoked scamorza in the oven, add a few slices of prosciutto crudo, and serve it with a salad.
Of course, there are many other ways to eat scamorza, modern, rustic, or traditional, but this is the most popular one.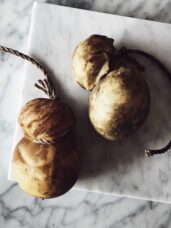 how to make scamorza
Ingredients
1

smoked scamorza

1

teaspoon

extra-virgin olive oil

2-3

slices

prosciutto crudo

optional.
Instructions
Preheat the oven to 180°C (350°F).

Grease or line with parchment paper a casserole.

Slice the cheese and place it in the casserole.

Bake until completely melted and a little crust forms on the surface.

Serve the scamorza topped with the prosciutto slices.
There's another delicious and Summery way to eat scamorza, I learned about it in the Costiera Amalfitana: grilled scamorza with lemon leaves.
They usually lay a slice of scamorza on a lemon leaf and grill it on a barbecue.
I made scamorza skewers with lemon leaves: the same result and an easier dish to make and eat.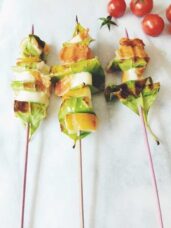 grilled scamorza with lemon leaves
Instructions
Dice the cheese.

Clean the lemon leaves.

Pierce the cheese cubes with skewers, each one rolled in a lemon leaf.

Heat the grill pan and brush it with olive oil.

Grill the skewers, 30-60 seconds per side, until golden brown.
Enjoy your scamorza recipes!
Claudia