This is the authentic Italian homemade ricotta gnocchi recipe: a delicate dish for a gourmet Italian dinner.
Ricotta gnocchi are much easier than classic potato gnocchi: you don't have to cook ricotta, only mix it with flour. Which is an excellent reason to make these "gnocchi" on a hot summer day.
RICOTTA GNOCCHI: FLAVOR AND CONDIMENT
The flavor of the ricotta gnocchi is quite delicate, so you need to give it a little hint: a little more salt and tasty Parmesan cheese.
Also, note that ricotta gnocchi should be served with a gentle condiment: basic tomato sauce, or melted butter and sage.
When you are planning a lovely Italian dinner, perhaps alfresco, think of making ricotta gnocchi: you can prepare them ahead of time – same for the condiment -, they take minutes to cook. And you'll have plenty of time for preparing a delicious starlit night dessert.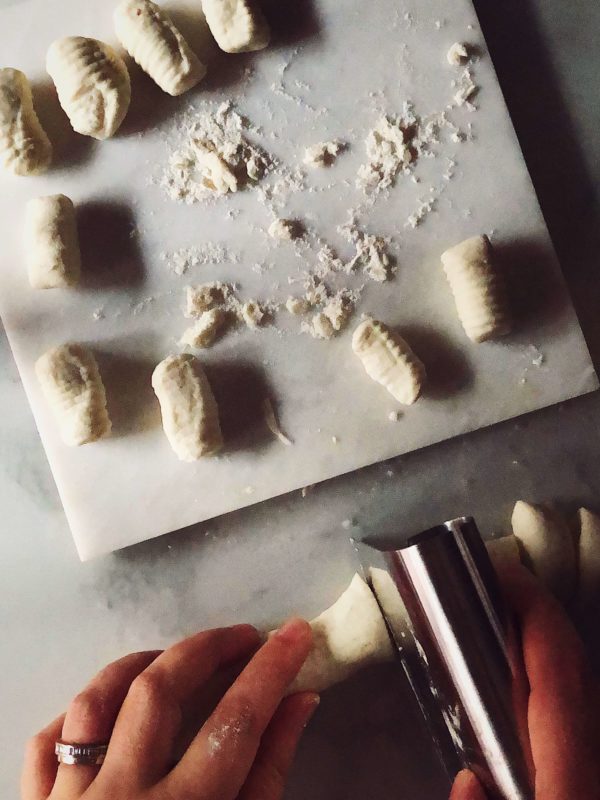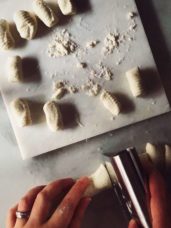 Italian ricotta gnocchi
Homemade ricotta gnocchi with flour and parmesan cheese.
Ingredients
8.8

oz

ricotta

250 gr

5.3

oz

00 flour

150 gr or 3/4 cup + 1 tablespoon - + more to work the dough

1

egg

1.4-1.8 

oz

parmesan cheese- grated

40-50 gr or 4-5 tablespoons

1

teaspoon

of salt
Instructions
Place the ricotta in a sieve and over the sink to make it lose extra liquids.

Meanwhile, grate the Parmesan cheese and set up all the other ingredients.

Transfer the ricotta cheese to a bowl, add the Parmesan cheese, the egg and a teaspoon of salt. Mix well.

Pour the mixture over a working surface and add the flour. Work with your hands forming a dough that is smooth and malleable. Add flour if necessary.

Flour the working surface.

Divide the dough into 4 pieces and roll each out into 1/2 inch diameter cylinders. Cut each cylinder into 1 inch or so pieces.

Roll each piece on the wood tool/gnocchi board or over a fork to engrave it with grooves that will help the gnocchi capture the condiment.

Bring a medium pot of salted water to a boil (1 teaspoon of salt every 4 cups/1lt of water).

Cook the gnocchi until they float. Catch them with a slotted spoon, transfer them to a serving bowl or plate, and season them according to your taste.
Enjoy your gnocchi!
Claudia