Italian spinach with cheese recipe: a cheesy melted side dish with mozzarella and cacioricotta – an aged ricotta cheese from Southern Italy.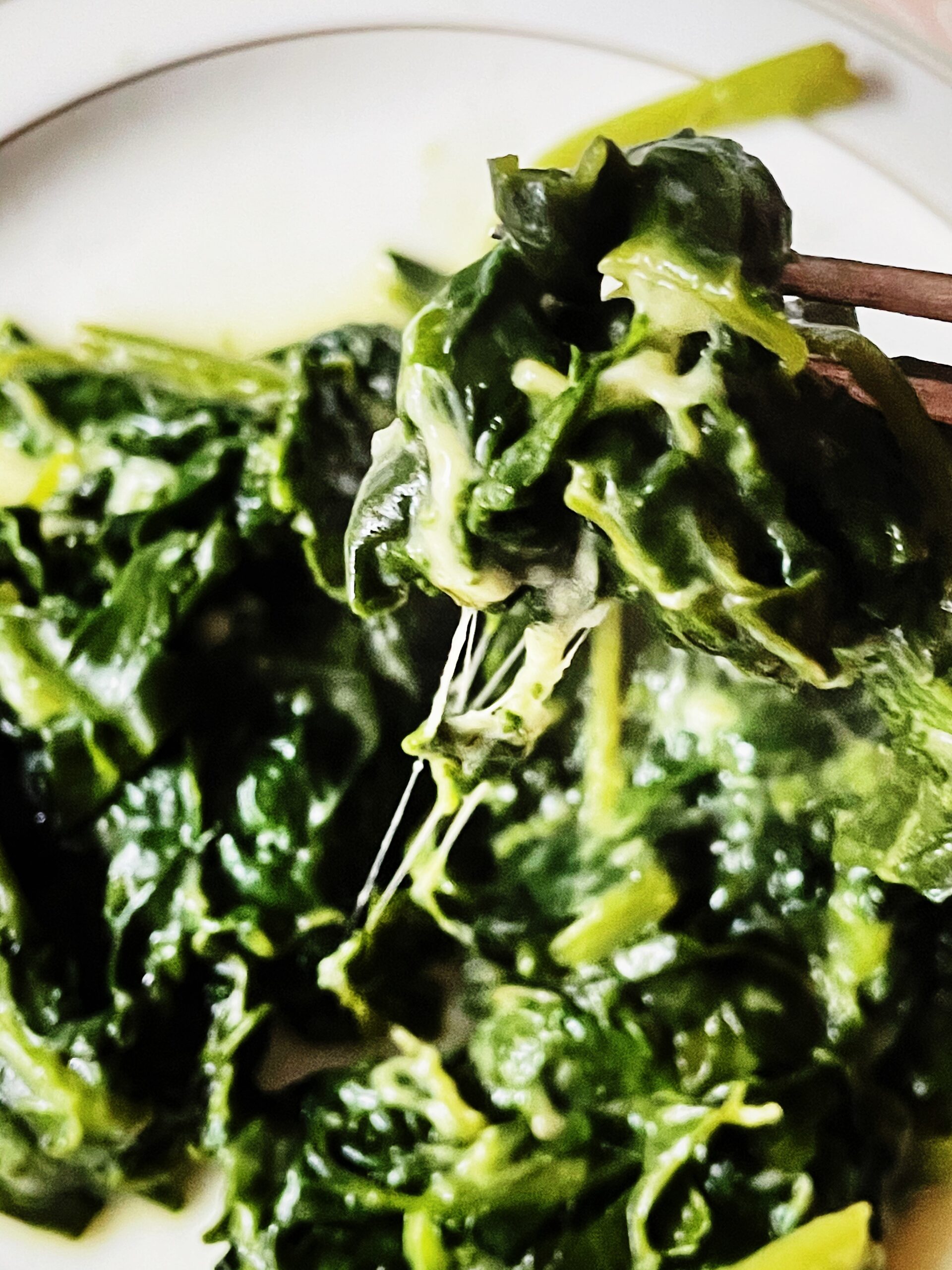 How many times have I seen my mom open a plastic bag and toss cubes of frozen spinaches with white dots into a skillet! It was a time when Italy experienced enthusiasm and blind trust in frozen foods! The illusion of meals ready in five minutes or less had conquered us all. Plus, anything cheesy and with extra salt would conquer any childish palate. And she had four to nourish!
Italian spinach with cheese
It was not an invention out of nowhere because spinach with cheese was already made and known everywhere in Italy. We call them "spinaci filanti". Only, we had forgotten how easy it was to make it at home. Yes, there are a few extra steps, like cleaning the spinach leaves and chopping the cheeses, but they're worth a healthier cuisine. 
Instead of salt and flavor enhancers, I add a bit of cacioricotta cheese to the mozzarella. Cacioricotta is a less milk, more aged cheese that melts as well as mozzarella but is also more flavorful.
how to cook the Italian spinach with cheese
So basically, all you have to do to make a skillet of melting and tasty spinach and mozzarella is clean and trim the spinaches and chop or trite the cheeses. Then sauté a garlic clove in a little bit of olive oil, cook until mushy – because overcooked vegetables are a characteristic of Italian cuisine – and finally add the cheeses. The heat will melt them, and you'll help amalgamate the ingredients and cover the vegetables with the emulsion by stirring with a wooden spoon.
Of course, this is a side dish you must serve hot, so I recommend preparing the ingredients – clean and chop – beforehand and finalizing the recipe upon serving. It really takes just the time to bring pasta water to a boil or toast some bread to spread it on.
You can certainly use only mozzarella cheese, but you'll probably need more salt or more garlic – which is not a terrible idea!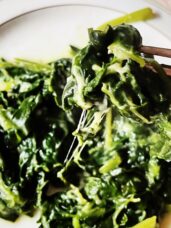 Italian spinach with cheese
Ingredients
1

oz

spinaches

- 400 gr

1

garlic clove

1

teaspoon

olive oil

3.5

oz

mozzarella

- 100 gr

1.8

oz

cacioricotta

- 50 gr

salt
Instructions
Clean and drain the spinaches well.

Peel and crush the garlic clove with the blade of a large knife.

Pour the olive oil into a large pan and add the garlic and sauté medium heat for a couple of minutes.

Add the spinaches, sprinkle them with a pinch or two of salt, and cover. Lower heat and cook until mushy - five to eight minutes.

Meanwhile, finely chop or trite the cheeses.

When the spinach is fully cooked, add the cheeses. Mix, over medium heat, until the cheeses have melted and have been well amalgamated to the veggies.
Enjoy your Italian spinach with cheese recipe!
Claudia