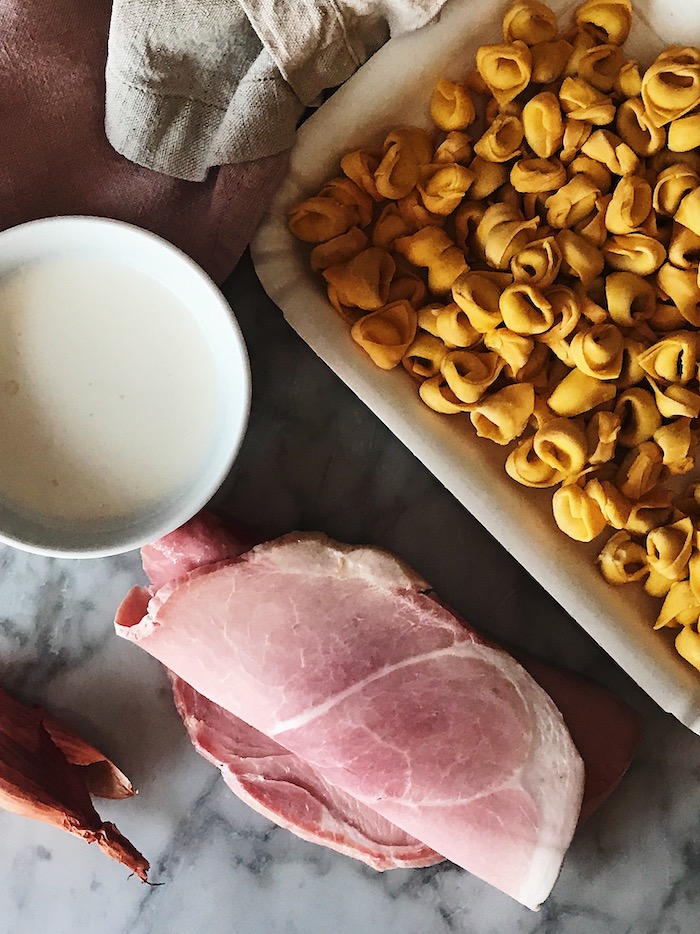 how to make the tortellini alla panna sauce
The authentic sauce of tortellini alla panna is, basically, heavy cream, flavored by a simple soffritto of olive oil and onion (shallot sounds to me like the best choice for its gentleness), and the prosciutto cubes added minutes later. The secret is in the correct timing, not burning the onion, and a special Italian spice: nutmeg.
After you've made or bought tortellini and prepared the panna sauce, all you have to do is boil the tortellini, add them to the sauce pan, and sautè them for a couple of minutes. Many add peas. But I've rarely seen them in the not-at-all-health-concerned dishes of the young men mentioned above. You have to wait for their 40s, for them to appear in their grocery baskets!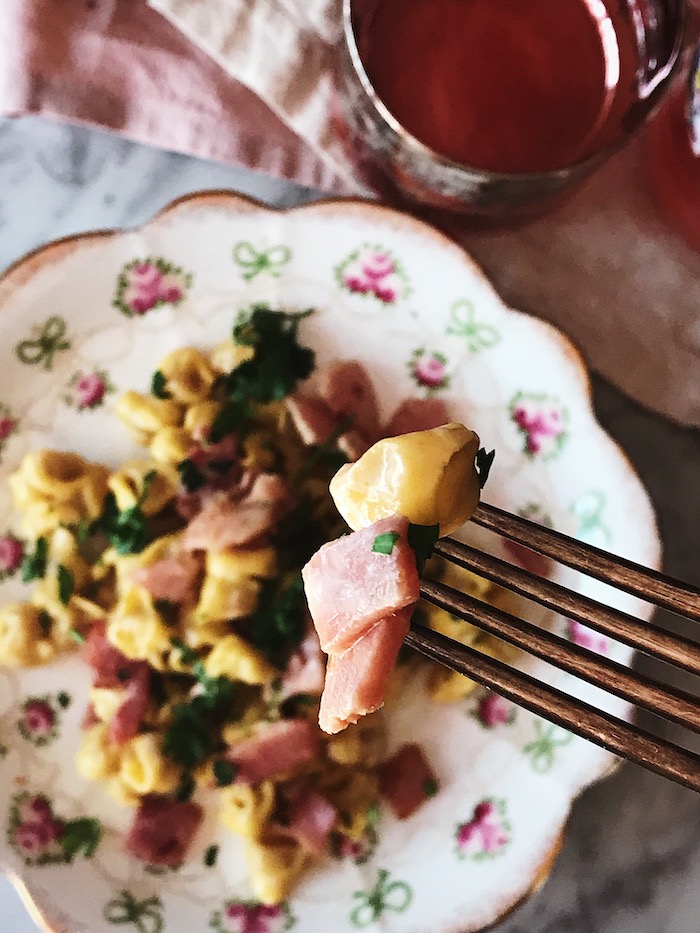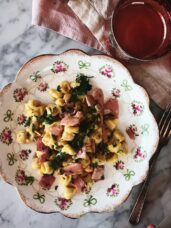 Tortellini panna e prosciutto cotto
Tortellini seasoned with a velvety cream and tender prosciutto cotto cubes.
Ingredients
10.5

oz

tortellini

300 gr

1/2

shallot

3.5

oz

prosciutto cotto

100 gr or 1 thick slice

3/4

cup

heavy cream

1

tablespoon

extra virgin olive oil

nutmeg

salt
Instructions
Dice the prosciutto cotto. Finely chop the shallot.

Bring a large pot of salted water to a boil (2 liters or 4 cups of water and 2 teaspoons of salt every 300 gr or 3 cups of pasta)

Heat the olive oil in a large pan, and brown the shallot until fork tender and translucent.

Add the prosciutto cubes and sauté for 2-4 minutes over medium heat.

Pour in the heavy cream, mix well, and cook for about 2 minutes. Taste for salt and add 3-4 grinds of nutmeg (1/8 or less of a teaspoon). Mix and turn off the heat.

Cook the tortellini in the boiling water until they float. Catch them with a skimmer and transfer them to the condiment pan.

Sauté them over high heat for a couple of minutes, mixing to amalgamate.

Serve hot, sprinkled (or not, depending on your taste), with freshly grated parmesan cheese.
Enjoy your delicious tortellini panna e prosciutto!
Claudia