In this post, I'm sharing with you Naple's authentic Pasta e Fagioli recipe.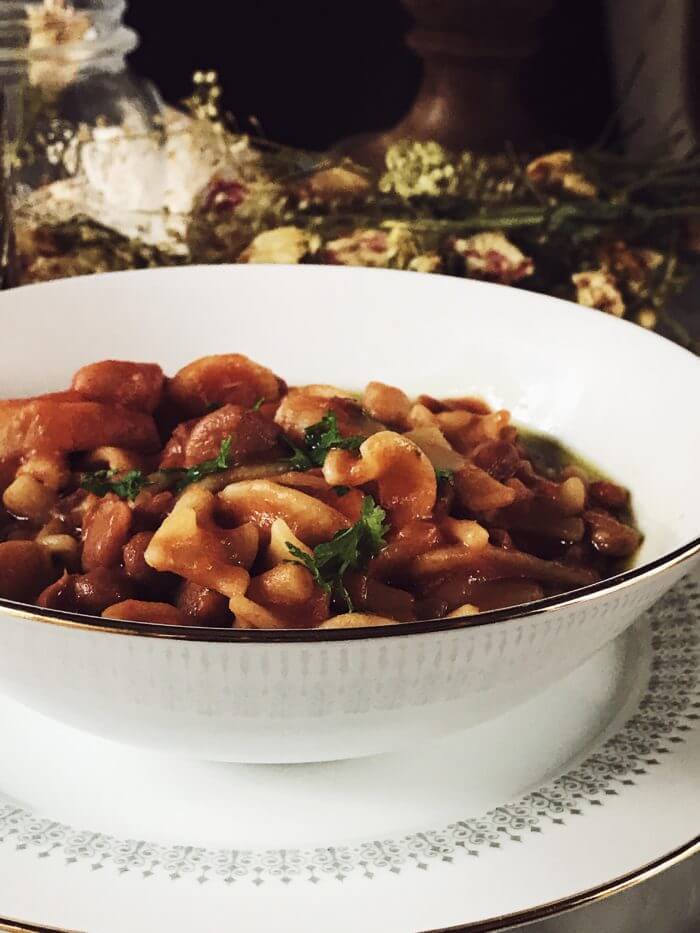 WHAT IS PASTA E FAGIOLI
Pasta e Fagioli is a beans soup with pasta. A Winter dish you'll find everywhere in the peninsula: from North to South, everyone enjoys a hot plate of this delight.
Sometimes the pasta is cooked with the beans, other times separately and added last minute.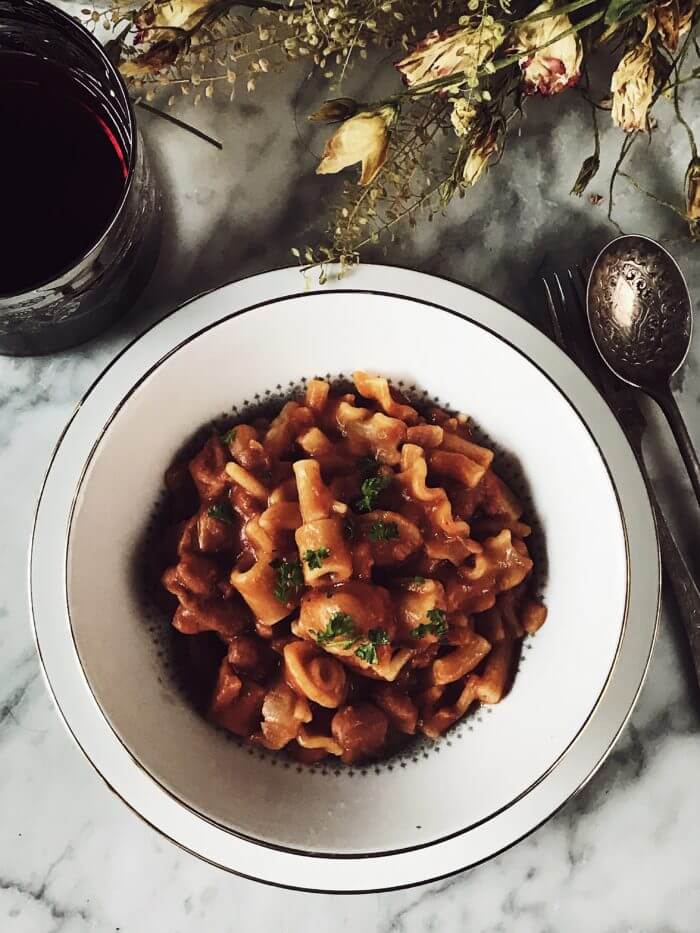 HOW TO MAKE PASTA E FAGIOLI
As mentioned, to make the Italian Pasta e Fagioli, you can choose to cook pasta and beans together. And you can also opt between "in rosso" – with tomato sauce or "in bianco" – no sauce. I make it the Neapolitan way: pasta cooked with beans. This way, it releases starch, and you get a very creamy result. 
The ingredients for this Pasta e Fagioli are a tiny touch of tomato passata, precooked beans (that you can make at home, you'll find the recipe at the end of the post), diced pancetta, and "pasta mista" (mixed pasta shapes, read: leftovers).
You can make Pasta e Fagioli meatless, but pancetta is on another level, and there's really just a tablespoon per serving.
This is is a dish from the Yellow SIMPOSIO (my Italian cooking and living book series); enjoy!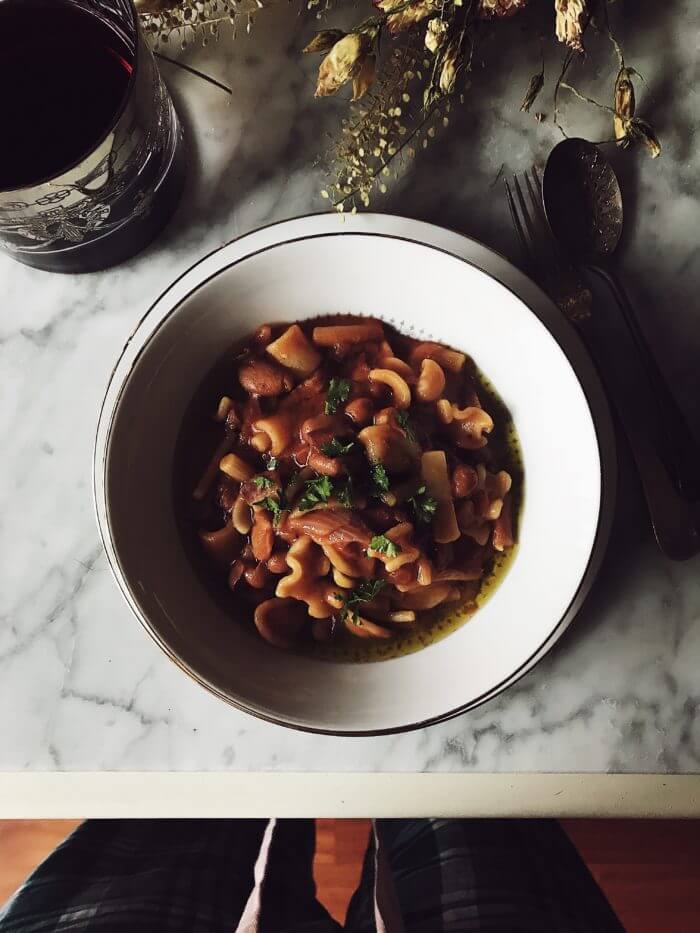 FROM THE ITALIAN COLORS NEWSLETTER:
"…Here's a little secret for you, my voracious pasta lovers!

Does it ever happen to you that, while cooking pasta, foam explodes out of the pot, making a mess on your stovetop? There's a simple trick to avoid this hassle: put a wooden spoon on top of the pot sideways…"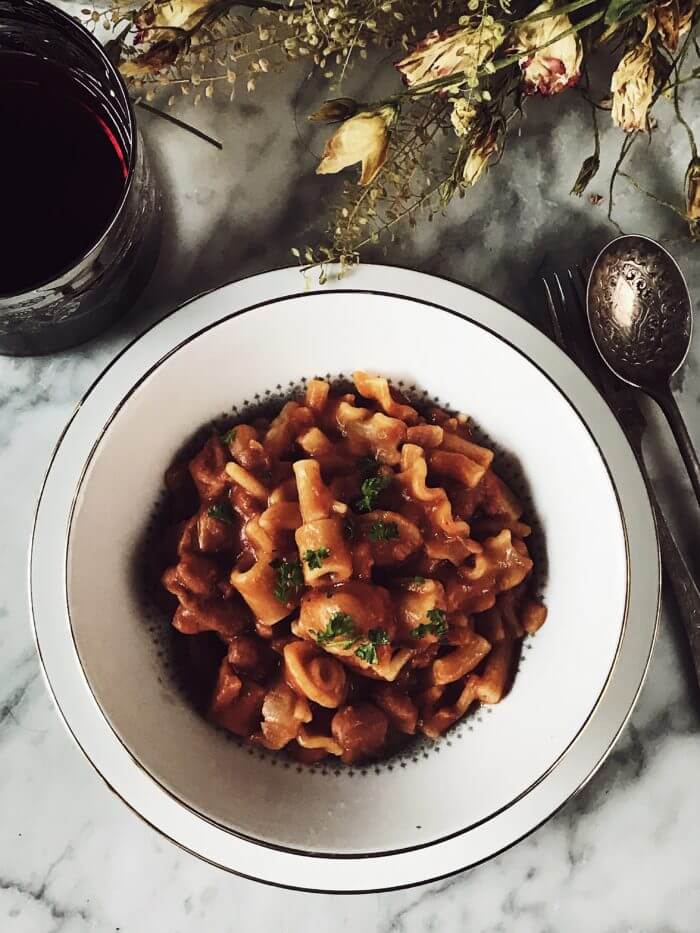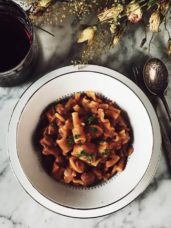 Pasta e Fagioli from Naples
Servings
2
to be duplicated as desired:
Ingredients
1/3

onion

1

garlic clove

2

tablespoons

pancetta diced

50 gr - 1.8 oz

1

teaspoon

of extra virgin olive oil

1

can of pre-cooked borlotti beans

1/2

cup

of tomato passata

5.3

oz

pasta (ditalini or mixed pasta)

150 gr

12.3

oz

hot tap water

350 gr
Instructions
Julienne the pancetta, peel and crush the garlic clove and peel and finely chop the onion.

Heat the olive oil in a pot (medium/tall walls), add the pancetta, and cook until the fat gets translucent (medium heat). Add garlic and onion, and sauté a few minutes until golden.

Remove the garlic and add the beans and 1/2 teaspoon of salt. Add passata and mix.

Add the pasta and the water and cook 10-15 minutes, or until the pasta is cooked "al dente". Give it a mix every now and then to avoid pasta sticking to the bottom. If needed, add a little water to end the cooking.

You can add chili to the pasta, but I prefer to serve Pasta e Fagioli with a bottle of chili oil or freshly crushed pepperoncino on the side; this way, each one can add to personal tastes.
Recipe Notes
I'm not sure if you should serve Pasta e Fagioli with a tablespoon or a fork, I usually begin with the fork and end up with the spoon (all those juices), so I set them both on the table.
If you want to cook your own dry beans.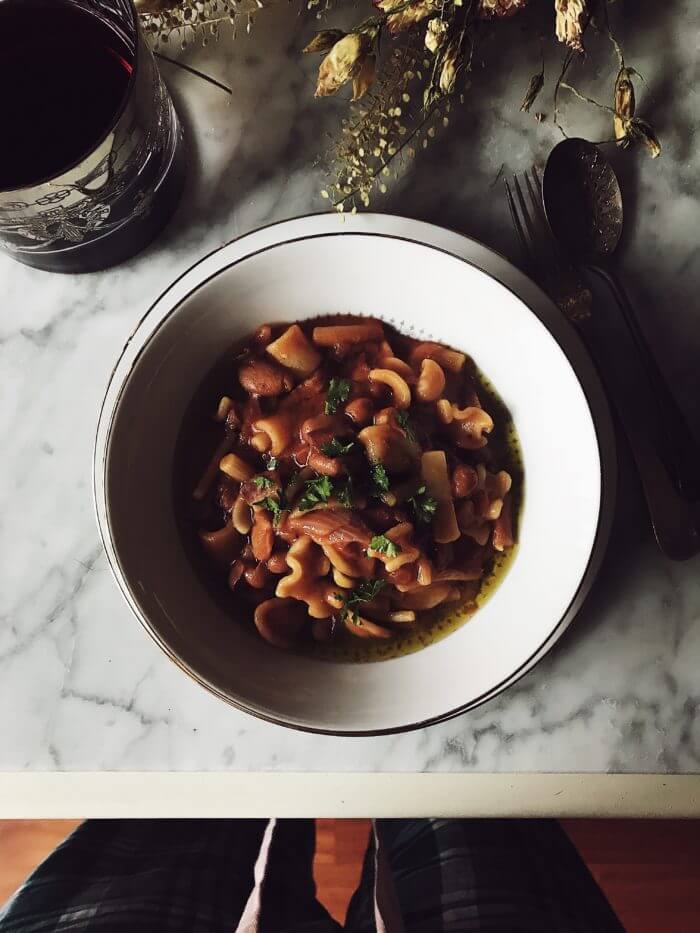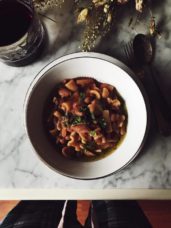 how to cook borlotti beans
Ingredients
2

cups

fagioli borlotti

1

sprig of rosemary

1

garlic clove

1

teaspoon

baking soda
Instructions
Place the beans in a bowl and cover them with water overnight.

Drain the beans and place them in a thick bottom pot; cover them with water (enough to cover, not more).

Add rosemary, garlic, and baking soda.

Bring to a simmer on medium heat, decrease the heat to a minimum, and cook uncovered for 20 minutes. Five minutes before ending the cooking time, add a teaspoon of salt.
Enjoy your Pasta e Fagioli!
Claudia