The authentic Italian meatballs recipe works ground beef, breadcrumbs, parmesan, and egg into delicious, crusty outside and tender inside, bites of delight. Here comes the Italian polpette recipe!
Italian meatballs are a significant example of the Cucina Povera, the peasant cuisine of Italy: recipes made with ingredients people had at hand, produce of their land, cheap products at the market, and very often, leftovers. The first meatballs, as a matter of fact, were made with the leftovers of boiled meat, minced and mixed with tasty ingredients: a satisfying and energizing dish for the whole family. Now we use ground beef, and make rich, nutrient, and savory beef polpette.
This is the very basic polpette recipe, the one made in many (maybe all?) Italian kitchens. The authentic Italian meatballs recipe ingredients are ground beef, breadcrumbs, parmesan, and egg.
A recipe from the SIMPOSIO book series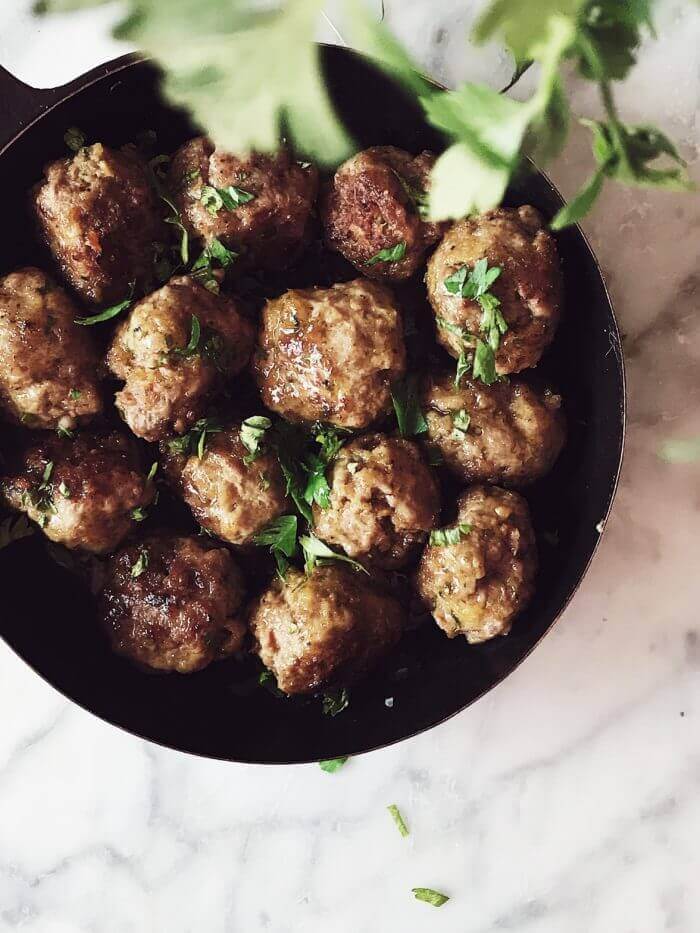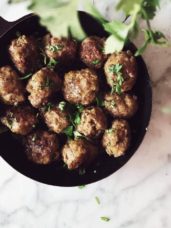 authentic Italian meatballs
Servings
24
small meatballs
Ingredients
14

oz

minced beef

400 gr

1/2

shallot

2-3

tablespoons

parsley

3.5

oz

breadcrumbs

100 gr - I use stale bread

2

tablespoons

parmesan cheese

1.8 oz - 50 gr

1

egg

1

teaspoon

salt

1/2

teaspoon

pepper

3

tablespoons

extra-virgin olive oil
Instructions
Grind together shallot, parsley, breadcrumbs, and parmesan.

Place them in a bowl, add meat, egg, salt, and pepper and knead with your hands.

Shape meatballs, trying to keep the same size for each one - to have the same cooking time.

In a large frying pan heat the olive oil and cook meatballs over medium heat, turning them often, but gently. They are ready when you see a tasty, crispy crust.

Serve your authentic Italian meatballs recipe hot.
NONNAS AND MEATBALLS
If Italians tell you "Ti farò a polpette", I will make meatballs of you, start running, they have really bad intentions.
But if they say " Ti farò le polpette", I'll make meatballs for you, sit down, and adjust a napkin under your chin: a great meal is about to begin. In both cases, if it's an Italian Nonna talking, double the possibilities. Neapolitan Nonna? Triple them – and add a lot of shouting.
See, it's all about articles and prepositions. And states of mind, especially when in Italy.
Enjoy your authentic Italian meatballs!
Claudia