In this post, you'll learn how to make authentic Italian gnocchi.
The real Italian gnocchi recipe has only two ingredients: potatoes and flour. But there are a couple of tricks to get a perfect result.
ITALIAN POTATO GNOCCHI INGREDIENTS
Making gnocchi from scratch is quite easy: potato gnocchi ingredients are only two: potatoes and flour.
But to make delicious homemade gnocchi, you need to know a few simple tricks.
First the

 flour

: it has to be the Italian 00 flour. It has the perfect texture and consistency to absorb potatoes' humidity.

Second, although according to the classic

 gnocchi recipe

, the potatoes for the dough are boiled, I prefer to steam or oven-roast them: they'll be drier and absorb less flour, resulting in softer and tastier gnocchi.

Finally, use 

red-skin and old potatoes

 (starchier).
Let's see how to make authentic Italian gnocchi…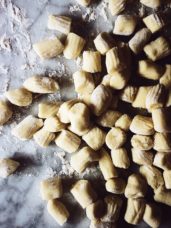 authentic Italian gnocchi
Servings
2
duplicate as desired
Ingredients
17

oz

potatoes

(buy red potatoes, the older the better) - 500 gr

5.3

oz

00 flour

150 gr - a little more than a cup
Instructions
To cook the potatoes opt between steaming or oven-roasting (unpeeled) because boiling retains too much humidity. I peel them, cut them into medium/small chunks, and steam them for about 15 minutes or until fork-tender.

If needed, peel the potatoes and mash them with a potato ricer or masher when they're still hot. Spread them evenly over a floured surface to let the steam out.

Once there's no more steam, it is time to add flour: it means the potatoes have reached the perfect temperature: they'll absorb just the right amount of flour.

Work the dough gently and the minimum necessary: it doesn't have to be elastic. Stop adding flour once it is workable and you can form cylinders. In case you added too much flour, work the dough with wet hands until it is malleable.

Form 2.5 cm/1 inch large cylinders by rolling a piece of dough - big as the palm of your hand - at the time with your hands.

Cut the cylinders into 2.5 cm/1 inch pieces with a cutter or knife.

Roll each piece over a gnocchi roller or over a fork. The engraving helps the gnocchi retain the condiment.

Display the gnocchi over parchment paper or on a floured surface, one layer and distant from the others, to avoid sticking. Sprinkle them with a little flour.

Bring a big pot of salted water - about 8 cups and 3 teaspoons of salt - to a boil. There is no salt in the dough, so you must add a little more than usual to the water. 

Delicately transfer the gnocchi to the boiling water.

The gnocchi are ready when they float on the surface of the boiling water. Catch them with a slotted spoon, place them in a serving bowl, and season them according to your taste.
Enjoy your homemade gnocchi!
Claudia