Here's a delicious recipe for pancetta mashed potatoes. Let's give this Thanksgiving an Italian lavish side dish.
ITALIAN MASHED POTATOES WITH PANCETTA FOR THE THANKSGIVING MENU
For this year's Italian Thanksgiving menu, we already have the bird (in the pasta), the gravy, and the stuffing. Now, we're going to make the side dish: pancetta mashed potatoes.
Remember the pancetta you used for the Italian gravy? Remember I told you to keep it for the mashed potatoes recipe?
If you did, good for you. If not, brown it again!
HOW TO MAKE THE PANCETTA MASHED POTATOES
To contrast greasy and crunchy pancetta, I used kefir's acidity. But you can use yogurt as well. 
Ready for my never-tell-me-I'm-boring olive oil mashed potatoes with pancetta flakes.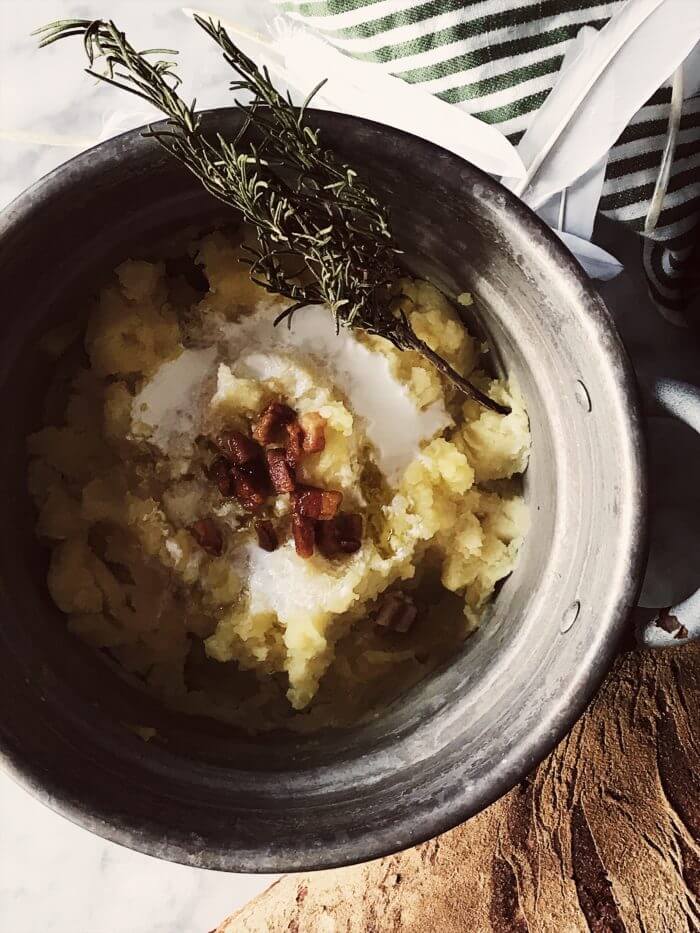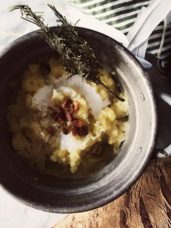 pancetta mashed potatoes
Ingredients
4

medium potatoes

1

rosemary sprig

¾

cup

pancetta

½-¾

cup

kefir

or yogurt

2

tablespoons

extra-virgin olive oil

salt
Instructions
Peel and cut the potatoes in chunks. Boil them or, much much better, steam them - adding a sprig of rosemary to the water.

Cut the pancetta into thin strips and place it in a pan over medium/low heat. Brown it until crunchy.

When potatoes are tender, mash them. Add the kefir, olive oil, and salt to taste (not too salty, because pancetta is coming) and mix well. 

Finally, add the pancetta flakes, amalgamate and serve hot.
Enjoy your Italian mashed potatoes.
Claudia