Ricotta cheesecake recipe with ricotta cheese, heavy cream, and lemon.
This is an authentic Italian ricotta cheesecake recipe, a ricotta pie made of shortcrust and filled with ricotta cream: what you get when you order a ricotta cheesecake here in Italy. But it is not our traditional ricotta cake*: it's a reinterpretation of the Anglo-Saxon cheesecake.
This cheesecake filling is made by mixing ricotta with heavy cream, sugar, and egg yolks, all ingredients common to Italian cuisine. It is baked and without cream cheese, as we don't use it frequently. The filling has lemon, both juice and zest, giving it a delicious and delicate flavor.
*If you are looking for a traditional Italian ricotta cheesecake recipe, you should check the Sicilian ricotta cheesecake recipe here.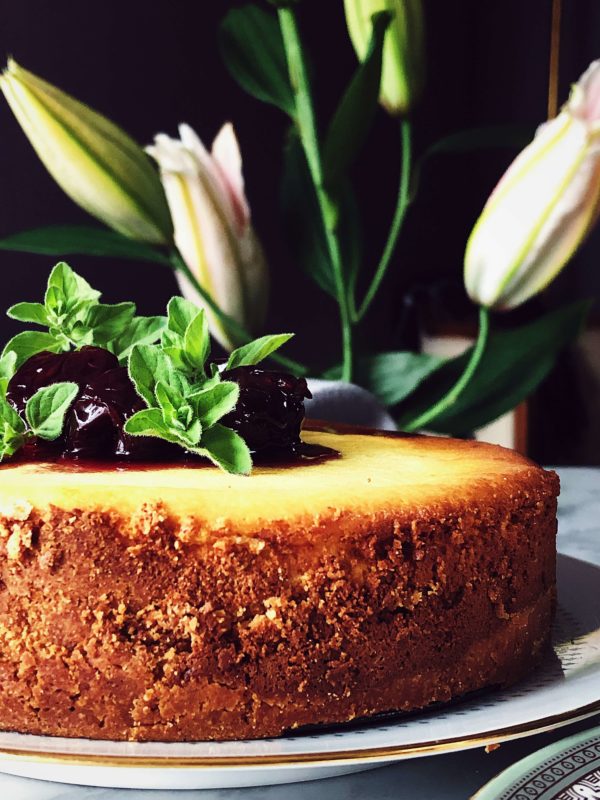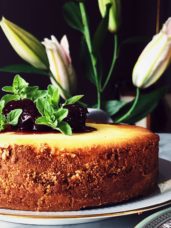 ricotta cheesecake recipe with ricotta cheese
Ricotta cheesecake with ricotta cheese, heavy cream, and lemon.
Total Time
3
hours
25
minutes
Ingredients
for the shorcrust:
5.3

oz

0 flour

150 gr or 1 cup + 2 tablespoons + 1 teaspoon

2.7

oz

butter (fridge-cold)

75 gr or 1/2 cup + 1 tablespoon + 1 teaspoon

1

teaspoon

honey

2.7

oz

confectionary sugar

75 gr or 1/4 cup + 6 tablespoons

1.5

yolks

or 1 from a large egg

1

pinch

sea salt

1

teaspoon

vanilla extract
for the filling:
8.8

oz

ricotta cheese

250 gr

1/2

cup

sugar

3

egg yolks

1/4

cup

heavy cream

2.5

tablespoons

cornstarch

1

pinch

sea salt

the lemon and zest of 1/2 lemon
Instructions
for the shortcrust
Place the butter (cut in pieces), sugar and honey in the stand mixer and mix, (low/medium speed – kneading hook on) for a minute or less.

Mix the egg yolks and salt in a cup, and pour them in the mixer bowl. Mix a few seconds.

Add the vanilla extract and the lemon zest to the bowl. Again, mix a few seconds.

Sift the flour twice and add it to the bowl.

Combine the ingredients for a few seconds, just the time to get a dough that won't stick to your hands.

Cover the bowl with plastic and refrigerate it for 2 hours (or freeze it 30 minutes).
for the filling
Meanwhile beat the ricotta, the egg yolks, the heavy cream, and the sugar until well amalgamated. Add cornstarch, the lemon zest and juice, and a pinch of salt. Mix well.
to finish the ricotta cheesecake pie
Preheat the oven to 170°C (340°F).

Roll out the shortcrust into a circle big enough to cover the bottom of the cake mold (springform pan would be better), or larger, if you want to line walls as well.

Prick the pastry with a fork and bake it for 10 minutes.

Take it out of the oven, pour in the ricotta mixture and bake for 40-45 minutes, or until a knife or a wooden skewer come out clean when you insert them into the center of the cake.

Let the temperature decrease before unmolding it.

Serve the cheesecake cold or at room temperature with the garnishing of your choice. I added syrupy cherries and fresh mint leaves.
Italian ricotta cakes
Ricotta cake is kind of a complicated matter here in Italy: for every Italian region, there's a different recipe (sometimes a few).
But I'll try to summarize the topic for you…
The two most popular recipes are the Neapolitan Pastiera and the Sicilian Cassata (both dessert recipes are on the Palermo Simposio).
Pastiera has a shortcrust base, while Cassata has a pan di Spagna (sponge cake) one, although sometimes it's just a very thin disc. You can distinguish them by the covering of the Cassata, which is in marzipan (often green colored).
There's another Sicilian ricotta pie: the oven-baked Cassata, which resembles more a cheesecake.
And then, there's cheesecake, which is nothing but the way we make the American classic here in Italy.
Apart from this basic one, you'll find innumerable cheesecake recipes, some featuring just ricotta, others with both ricotta and cream cheese, or heavy cream, or mascarpone… all modern recipes.
MORE RICOTA RECIPES
Delicate and delicious spinach and ricotta "naked" ravioli.
The easiest dessert you'll ever make.
GRILLED TOMATOES AND RICOTTA BRUSCHETTA
Grilled cherry tomatoes skewers and ricotta cream bruschette.
…
Enjoy your ricotta cheesecake!
Claudia