Simposio's Taranto travel cookbook is a treasure chest filled with local food, things to do, recipes, pictures, stories, and traditions from an ancient city in Puglia and its Città Vecchia (old town).
In this cookbook, you'll prepare and savor authentic and traditional recipes from Taranto and Puglia, discover less-known places, experience almost lost traditions, and take a glimpse of the old-world and the contemporary culture of Italy.
​
a Taranto travel cookbook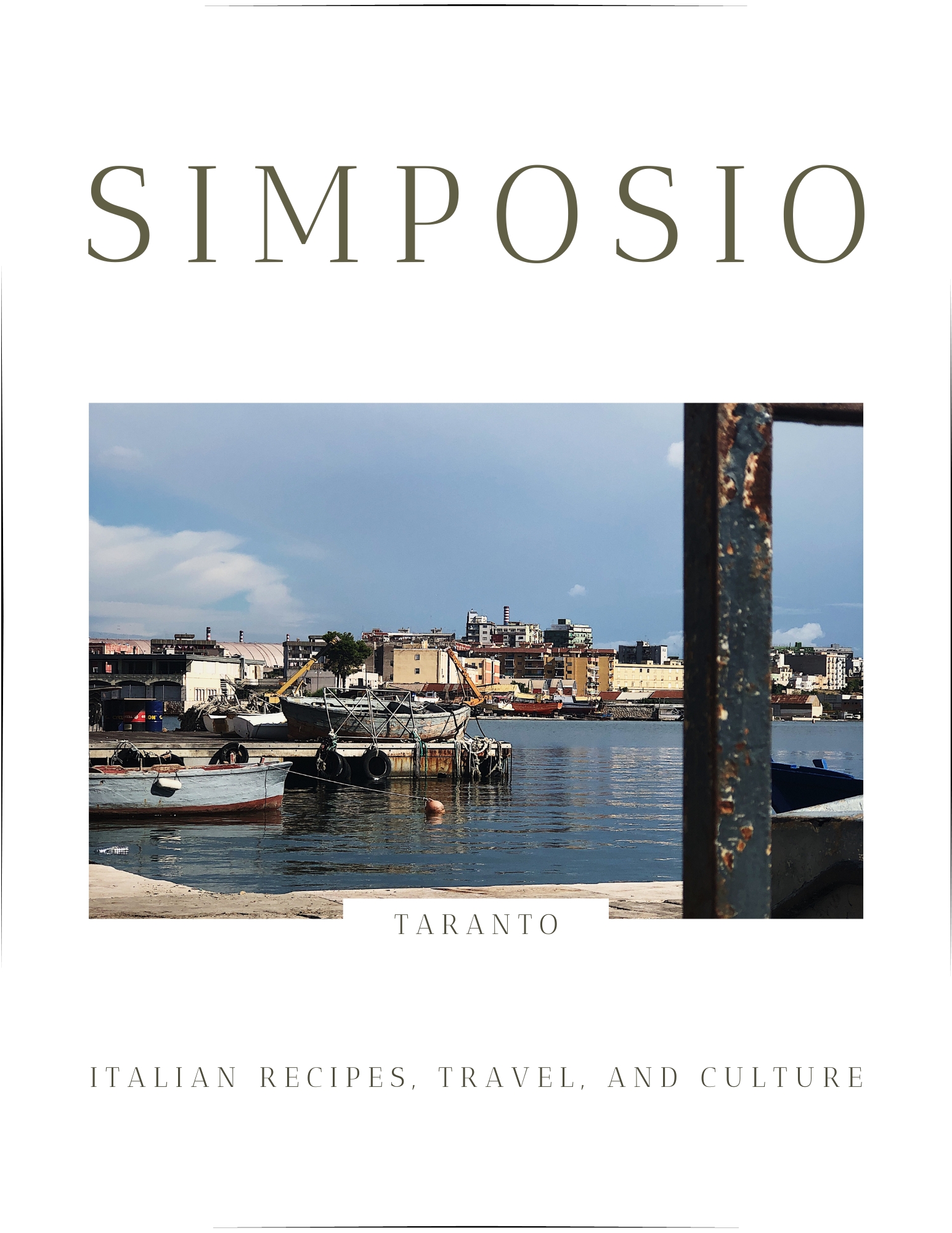 A TARANTO TRAVEL COOKBOOK: THINGS TO DO, THE ARCHEOLOGICAL MUSEUM, THE OLD TOWN, THE FOOD, AND THE PEOPLE
With this travel cookbook, you will explore Taranto, its archeological museum, the Città Vecchia, the Easter processions, and other amazing spots.
We will talk to locals and learn to cook traditional Taranto and Puglia food. We'll go deep inside traditions, ways of living, and states of mind.
You will hear myths, legends, and tales of gods, sirens, ghosts, whales, and anglers.
You'll get bitten by tarantulas, dance to expel the poison, and rest sipping a lemon granita.
You'll follow poignant processions, both in the new and the old town, and watch fireworks from a tiny fisherman's boat.
And you'll cook mussels, pasta, bell peppers, fava beans, calamari, and Easter and Christmas sweets.
Ready for a journey through the less known Puglia? Ready for more Italy?
Welcome to Taranto!
ABOUT TARANTO, PUGLIA, ITALY
Taranto is an Ionian seaside city in the northwestern end of Salento, one of the subregions of Puglia. It is also the historic capital of Magna Graecia. Known for its magnificent Città Vecchia, the unique MARTA archeological museum, the suggestive Easter processions, its two seas, mussels, flamingos, mermaids, and music.
Although part of off-the-beaten-path Italy, there are plenty of things to do and enjoy: real people, real life, real everything! In Taranto, especially in Città Vecchia, you can witness untouched folklore, bear the glare of locals, and eat authentic traditional food.
TAKE A LOOK INSIDE TARANTO'S SIMPOSIO:
What you'll find in Taranto's Simposio:
06 Welcome to Taranto
08 Cooking Notes
10 A Bucket List
12 Taranto
16 Legends
18 A Day In Taranto
38 Angelica
40 Rodolfo
44 True, Cruel, Story
48 A Mermaid
52 Dance Therapy
56 Nights Like This
60 Women of Taranto
66 Procession
76 Two From Taranto
86 Old Pictures
88 Taranto's Food
92 Friselle
96 Puccia Rolls
98 Uccelletti
100 Panzerotti
104 Tubetti Con Le Cozze
108 Riso Patate e Cozze
112 Orecchiette Con Le Cime Di Rapa
114 Fave E Cicoria (Or Foglie)
116 Vurp' A Luciane
118 Calamari Ripieni
120 Scattiata
122 Scarcedde
124 Sannacchiudere
128 Martina Franca
136 Pacchi Dal Sud
138 Plic Plac Sauce
140 Bocconotti
144 Ranunculus
148 Peas Pesto
150 Buddha Bowl
152 Confetti
156 Pasta with Asparagus and Almonds
158 Orange And Asparagus Salad
160 Pupe Baffute
get a free sample of Simposio