basil homemade pasta recipe
An easy basil homemade pasta recipe, by hand or with the pasta machine.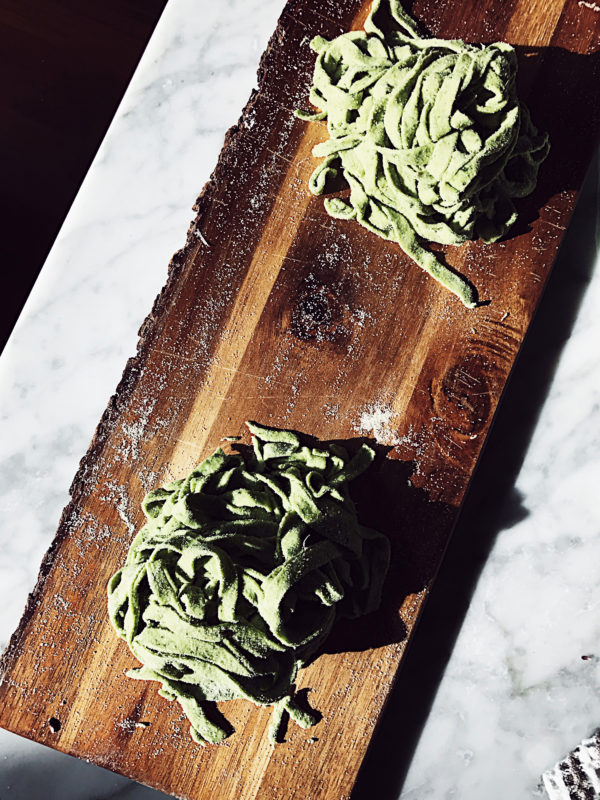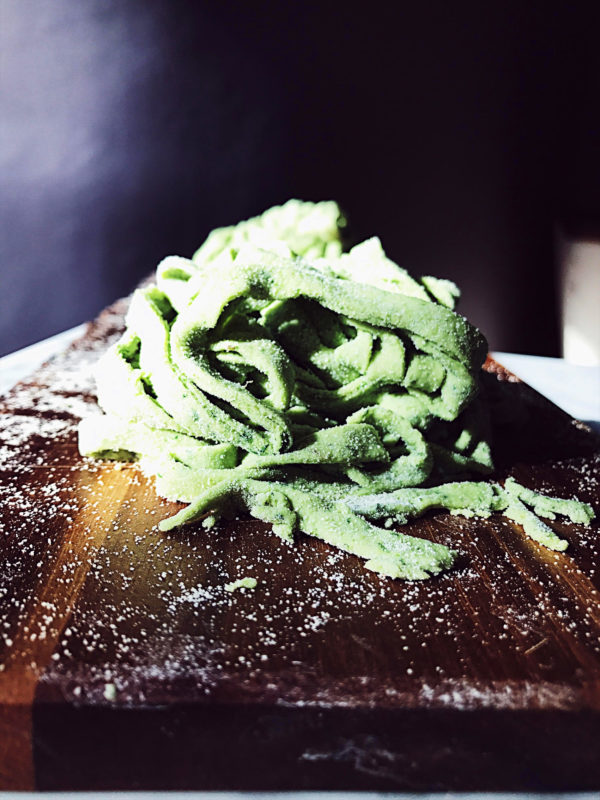 the basil homemade pasta dough recipe

This homemade pasta recipe is quick and easy. You'll find yourself thinking: why do I buy it? Oh yes, because it's a little bit messy too. Flour everywhere, tools to wash…
But, on a Sunday rainy day, or on a Friday end-of-the-week celebration night it is something you'll be willing to try.
I tried Silvana's trick to mill basil leaves together with the flour and I fell for the strong herbal aroma coming from water while boiling. And I seasoned this aromatic homemade pasta recipe with plain tomato sauce and sprinkled it with parmesan cheese. An authentic Italian recipe with a gourmet touch 🙂
If you dry the cutted/shaped pasta dough on a rack for at least 12 hours, you can even stuff your pantry for future banqueting.
how to
basil homemade pasta recipe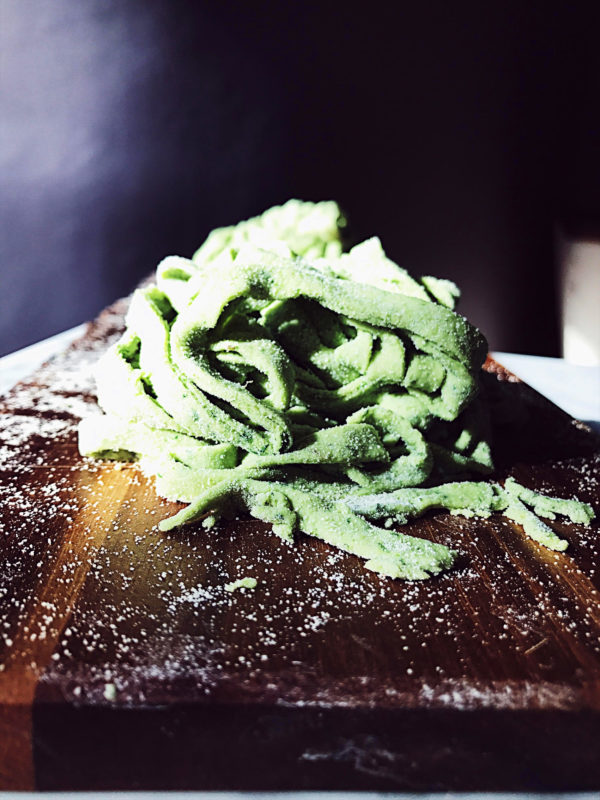 author:
Claudia Rinaldi | Gourmet Project
ingredients
¾ cups of semolina flour
¾ cups of 00 white flour + more to roll out
1 big handful of basil leaves
1 pinch of salt
Water
how to
Mill the (cleaned) basil leaves together with the combo of flours.
Place the flour in the mixer bowl (with dough hook), or on a working surface, if you are going to work the dough with your hands. Believe me: it is healing.
Add salt and water, one tiny tablespoon at the time.
Work the dough and add water until you get a smooth and elastic ball, it could take you up to 10 minutes (of manual work). If you are using the mixer, after the dough gets together and a ball forms around the hook, you will need at least a few minutes of extra handwork.
Finally, wrap the dough ball in plastic and let it rest for at least 30 minutes.
Divide the dough into 2-4 even sections. Flour the working surface and sprinkle some more flour over the dough.
Roll it out, working from the center outwards, as thin as you can, to get a rectangular shape.
If you are using a pasta machine, start with the wider aperture, if the dough brakes, fold it and pass it through the machine again. Gradually pass to lower apertures, I usually stop at 7, consider that my machine has 9 apertures.
Use a pasta cutter (or a pasta machine) to cut out long strings of tagliatelle.
Place them on a floured sheet until ready to cook.
enjoy pasta nights