Italian pastries: frappe (chiacchiere)
Italian pastries for Carnival: frappe (chiacchiere)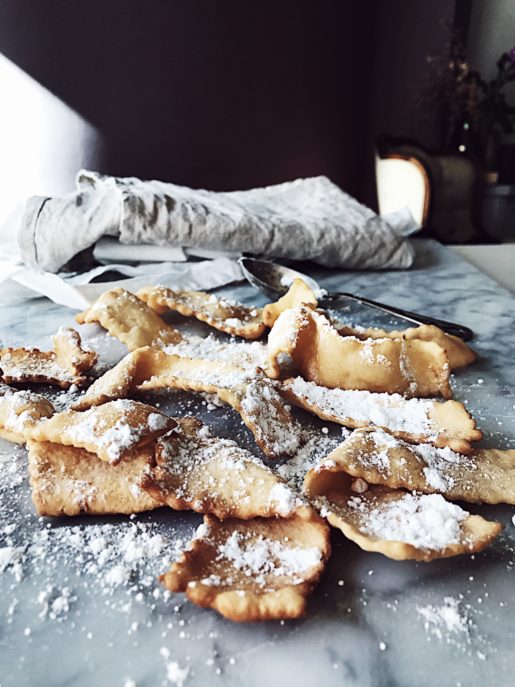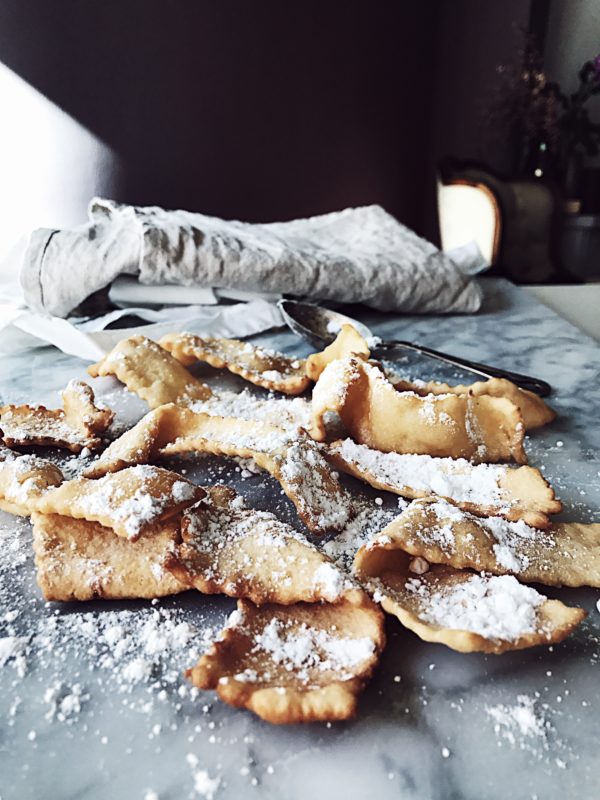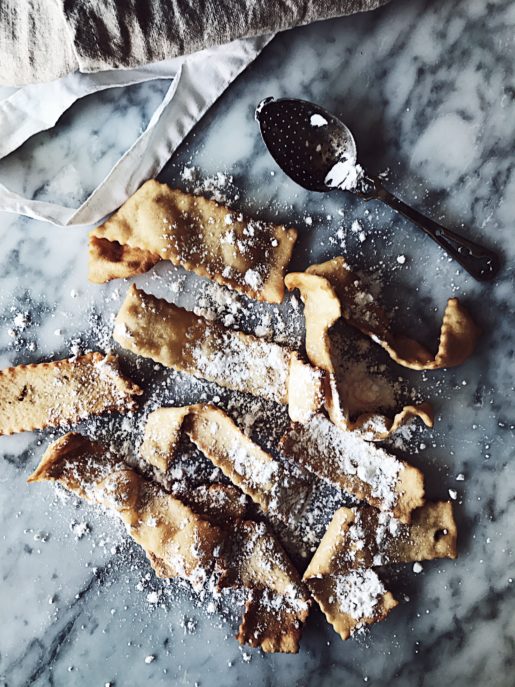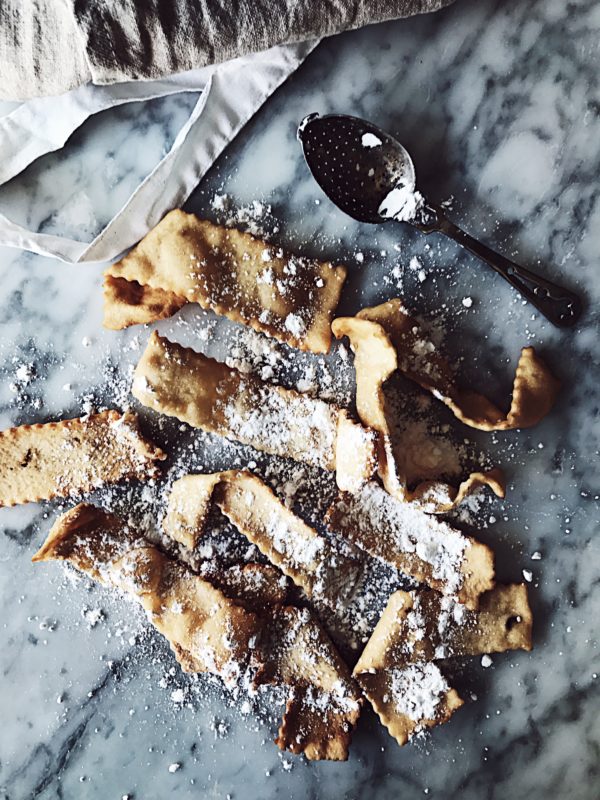 Carnival Italian pastries
Carnival, no matter how early, is here again…
Patisseries are showing in their windows trays and trays of  frappe & castagnole. The typical carnival pastries.
Frappe (or chiacchiere in other Italian regions) are crunchy pastry fritters, deep fried or baked.
Castagnole, deep fried or baked as well, are dough balls, soft and grainy, covered with copious amounts of sugar.
Every hostess gift will be, for a month or so, a tray of these mixed delights.
Instead of buying them (something that I'll probably do anyway at some point), I made my own frappe. And I found the secret to making them look and taste as the professional thing: I kept the authentic Italian recipe, but I rolled out dough with a pasta roller.
It's the only way to get those thin, crunchy and light strips!
the chiacchiere recipe
Italian frappe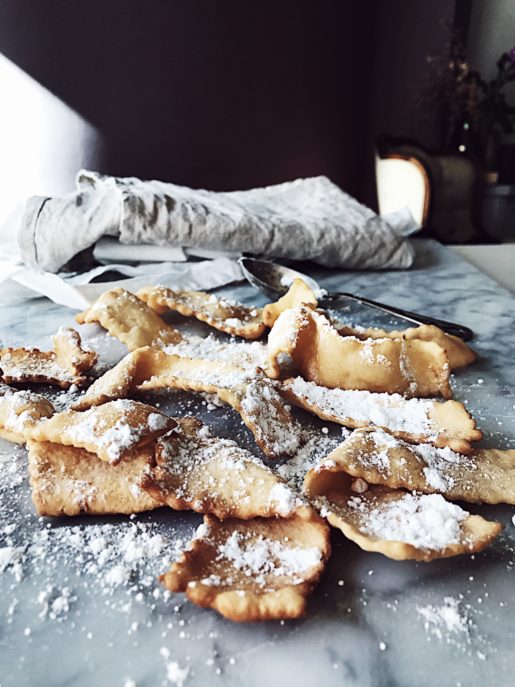 author:
Claudia Rinaldi | Gourmet Project
recipe type:
italian pastry recipes
ingredients
170 gr (6 oz) of 00 flour
1 egg
40 gr (1.4 oz) of white sugar
2 tablespoons of Mandarinetto or other citrus liquor
20 gr (0.7 oz) of butter, room temperature
Grated zest of 1 organic lemon
1 pinch of salt
Frying oil
2-3 tablespoons of confectionary sugar
best results with a pasta roller!
how to
Sift the flour through a strainer into the food processor bowl. Add the egg, the butter, sugar, lemon zest, salt, and liquor.
Mix, dough hook on, until a ball forms around the hook.
Cover the bowl with a tablecloth and let the dough rest for an hour.
Roll out the dough over a working surface. Make it as thin as you can.
The best result I've ever had was to roll it out with a pasta roller, gradually, from the largest size to the penultimate one. The result is an almost see-through dough.
Use a pasta cutter to cut out rectangles or long strips of dough.
Heat 2 cups of frying oil in a wok or tall saucepan.
Deep fry no more than two strips at the time: in a few seconds, you'll need to flip around each one of them and golden brown the other side too.
Remove the frappe and set them over a plate with oil absorbing paper.
When you finish frying the frappe, display them over a tray and sprinkle them with confectionary sugar (help yourself with a strainer).
Frappe are delicious on the day you made them and more than ok on the next day.
Carnival in Rome
As soon as Christmas euphoria is over, the streets of Rome become colorful Macchiaioli style canvases.
When coriandoli (=confetti) and stelle filanti (=streamers) are everywhere, it means a group of pirates, robots, wonder women and princesses has passed through.
Last week, when I saw the first traces of Carnival fun I checked, and the official date is very late February…
I guess moms need to focus children energies on something else.
So, it's early February and we are already stumbling in knights, clowns, fairies and Harlequins.
Is Harlequin the real Valentine?
I guess I can declare that Harlequin (= Arlecchino) is the most common costume of Italian Carnival. Everyone I know, at least once in his childhood, has been dressed in that patchy colorful costume.
Why him? Because of all Italian Commedia dell'Arte, he is the most light-hearted and funny character.
But don't let his funny costume and attitude mislead you, he is also a romantic hero. Someone who does whatever in his power to help young couples reunite, in spite of powerful men that hinder their love.
He's a poor slave, so the only way he can help is by manipulating, misleading and reinventing. All done behind a mask.
And this, my friends, is so explicative of Italian culture!
Hide, influence behind the scenes, smile and allude: the art of adaptation and inventiveness.
Sometimes it drives you nuts, sometimes you find it all so romantic, especially when there's a noble cause.
Like love 🙂
Therefore, I say, step aside Valentino, we found the real patron of love.
enjoy!