Pumpkin risotto is very popular here in Italy. It is a recipe from the Northern regions but cooked everywhere: it is a perfect comfort dish for Autumn and Winter dinners. Imagine savoring it after a long walk in the woods, admiring foliage. With a glass of a dry Prosecco to pander the sweet notes of pumpkin.
HOW TO MAKE THE ITALIAN PUMPKIN RISOTTO
To make the Italian pumpkin risotto, you need, first of all, a good broth. But an easy one that you can make ahead of time or a few minutes before starting to cook.
The best pumpkin to make risotto is the "Mantovana" or a green skin pumpkin because the pulp is drier and won't drown your rice.
The pumpkin, once peeled and diced, is cooked in the broth to enhance the flavor. And then added a ladleful at the time to the – toasted – risotto pan.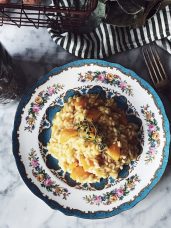 Italian Pumpkin Risotto
Authentic Italian Pumpkin Risotto recipe made with broth, pumpkin pulp, butter, and parmesan cheese.
Cook Time
1
hour
15
minutes
Total Time
1
hour
25
minutes
Ingredients
for the broth
2

carrots

1

small potato

1

white onion

2

sage leaves

5

black pepper grains

6

cups

water

1.5 liters

1

tablespoon

salt
for the risotto
10.6

oz

pumpkin pulp

300 gr - preferably from a "Mantovana" or a green skin pumpkin

2.5

oz

butter

70 gr

1

white onion

medium

10.6

oz

rice for risotto

300 gr - Carnaroli or Vianone Nano

1.7

oz

white wine

50 gr - dry

1.4

oz

parmesan cheese

40 gr - grated
Instructions
Place the carrots, the potatoes, half the onion, pepper, sage leaves, and water in a pot. Bring to a boil and simmer for forty minutes. Drain the liquid or simply remove the vegetables and spices.

Add the salt.

Thinly dice the pumpkin pulp and add it to the broth. Cook it for ten minutes or until fork-tender.

Meanwhile, finely chop the remaining onion.

Heat half of the butter in a large pan, add the onion and sauté until golden brown.

Add the rice and toast it for less than a minute, medium/low heat.

Pour in the wine, mix, and let it evaporate for a minute or so until the alcohol evaporates - the smell is gone.

Add the broth and the pumpkin, a ladleful at the time, and cook, stirring only occasionally until the rice is thoroughly cooked, but "al dente," to the bite.

Add the remaining butter and mix. Add the grated parmesan and stir to incorporate.

Your risotto is ready; serve it immediately!
Enjoy your Italian risotto!
Claudia