an Italian sausage pasta recipe: a tomato sauce with locally grown pork sausages, spices and a dash of wine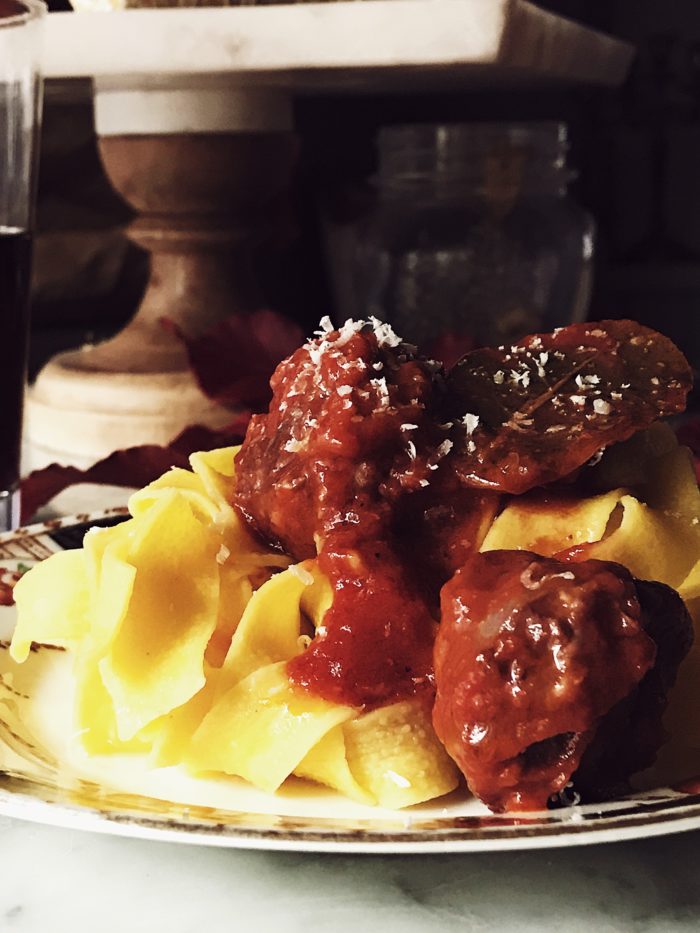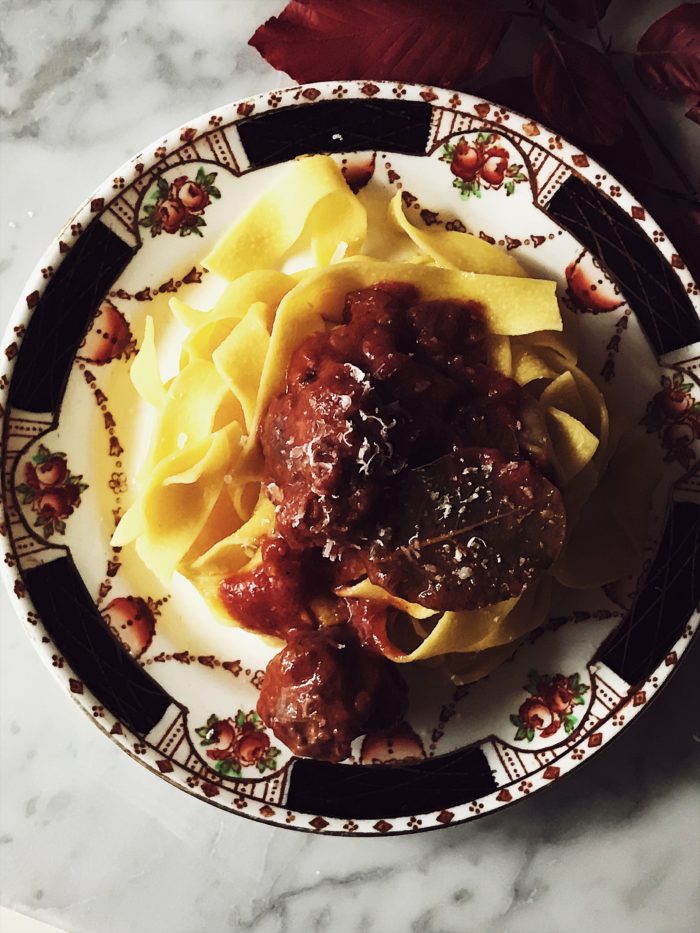 Italian sausages from an Italian pork
Welcome to the last recipe of the Long Pasta Project: an Italian sausage pasta recipe featuring pappardelle.
Last year my husband Luca finally convinced his friend Marco to purchase a pig together. Yes, a pig.
It was his dream since the beginning of time, or so he said and says every time he wants to convince people to follow him on a crazy adventure. And Marco used the same argument to convince himself and his wife: purchasing a pork was their reason for living, their destiny…
They also added a few more points to their reasons:
Clean meat from a local source (oh what a lovely Italian sausage pasta would come out of it);
Saving money, cause we were going to skip all the intermediaries;
Great bbq days.
Since they decided, independently, what to ask the farmer to do with the meat, we ended up with about 20 kg (44 pounds) of pork meat each. Most of which were sausages, prosciutto, pancetta, guanciale and capocollo (cured shoulder and neck meat).
And that's how our new life began:
Us bringing pork ribs to the Pasquetta bbq feast;
Us bringing salumi at any dinner party;
Us giving away capocollo to anyone that would demonstrate even a slight interest;
Us serving charcuterie boards at any time of the day, to any person that crossed the threshold of our home;
Us cooking a lot of Italian sausage pasta recipes (and polenta, and potato bakes, and…).
Marco also ended up with terrible blood tests results… We were too afraid to test our levels, so we will wait to properly recuperate our lifestyle balance.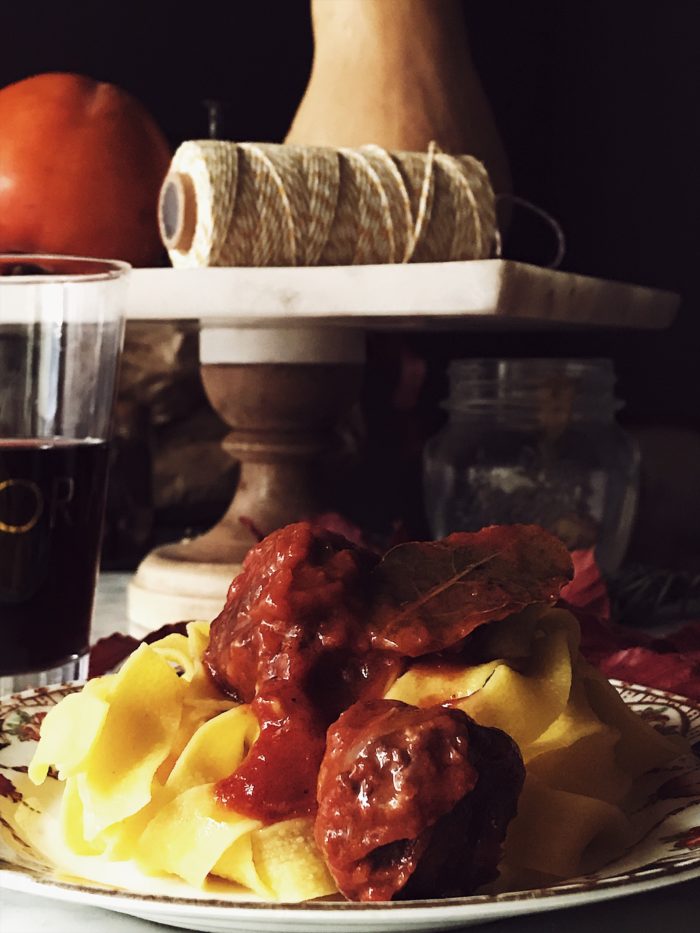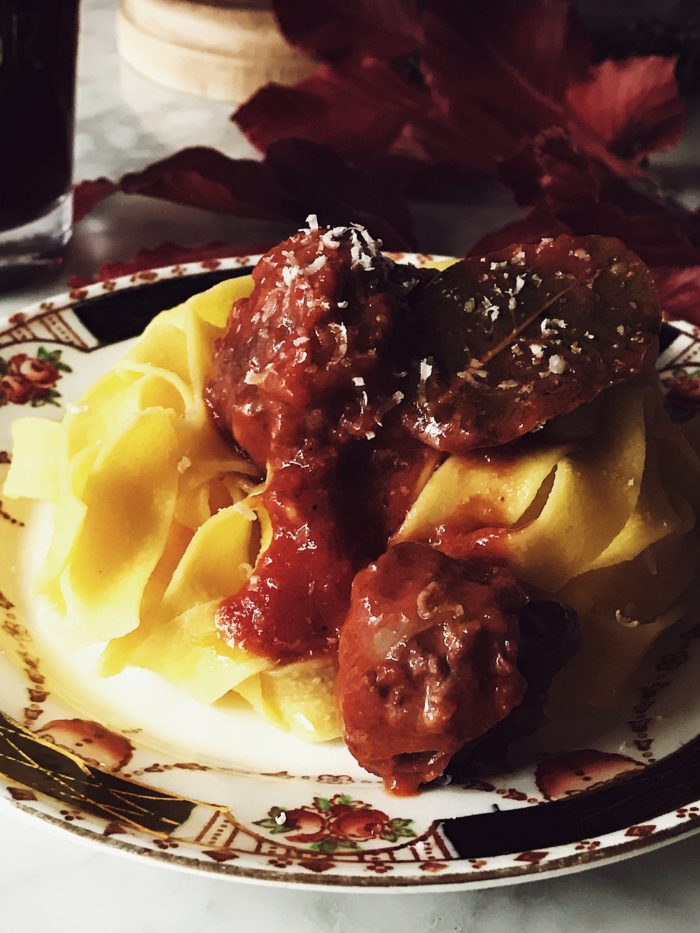 the Italian sausage pasta recipe
But one thing they were right about: we have cooked the best Italian sausage pasta recipes of our lives.
Therefore, sweet people that might purchase a pork or more wisely, a couple of sausages from a trusted, organic source, I have a great sausage and pasta recipe for you.
Since Italian cuisine has long ago found out how winter spices perfectly match greasy Italian sausages, expect cinnamon, cloves and bay leaves, and expect them to beautifully enhance the pungent meat flavors.
This is an Italian sausage pasta recipe, I usually match it with long pasta or homemade pappardelle (when willing to flour the kitchen and myself), but the condiment is perfect for polenta as well. Since winter is definitely here, I guess you'll have your hard time deciding if it is going to be an Italian sausage pasta or polenta night…
a very Italian sausage pasta recipe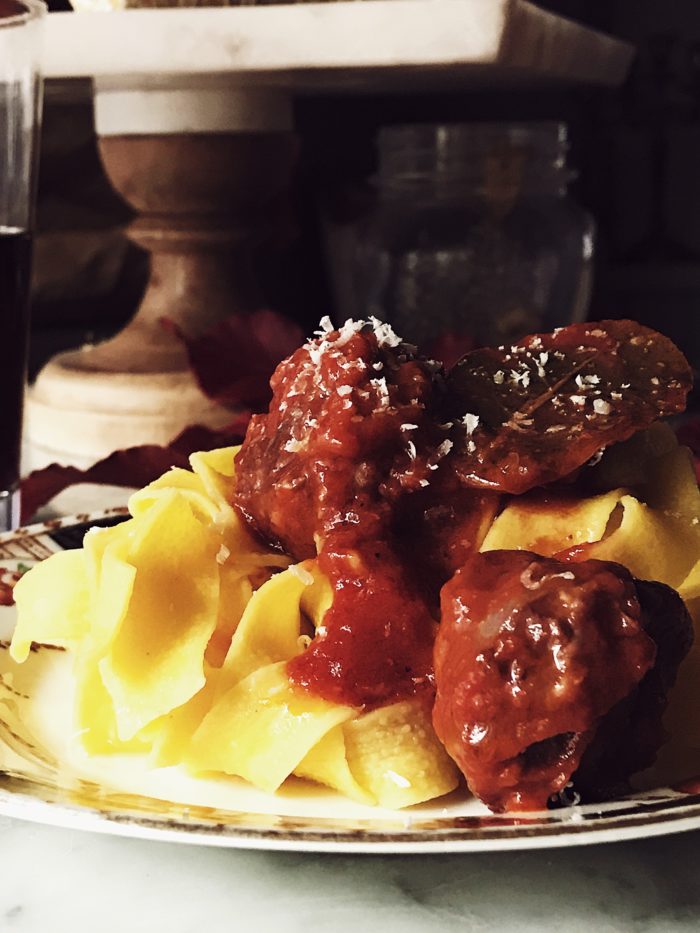 author:
Claudia Rinaldi | Gourmet Project
ingredients
6 tablespoons of olive oil
3 Italian sausages
1 white or yellow onion
1 glass of red wine
600 gr (21 oz) of tomato passata
8 cloves
½ cinnamon stick
4 bay leaves
how to
Coarsely chop the onion.
Heat olive oil in a large pot and brown the onion over medium heat, about 10 minutes.
Slice the sausages into medium/big chunks and add them to the pot. Brown them a couple of minutes, stirring to brown all sides.
Add wine, a teaspoon of salt, and a few grinds of pepper.
When the wine has evaporated (alcohol smell gone), add the passata and the spices.
Cover, lower heat (low/medium), and cook 25 minutes.
enjoy your sausage and pasta recipe!