Rome Christmas traditions, recipes, stories, and family gatherings will fill this season with love, food, and coziness.
The Red and Orange issue is dedicated to Fall & Christmas traditions in Rome and other parts of Italy.
You'll find regional recipes, secret places in Rome, dreamy pictures, and lots of traditions.
Plus, Roman pasta dishes, a Roman poet, cookies, chestnuts, and pomegranates.
– 113 pages
– 111 pictures
– 27 recipes
– no ads
– made in Italy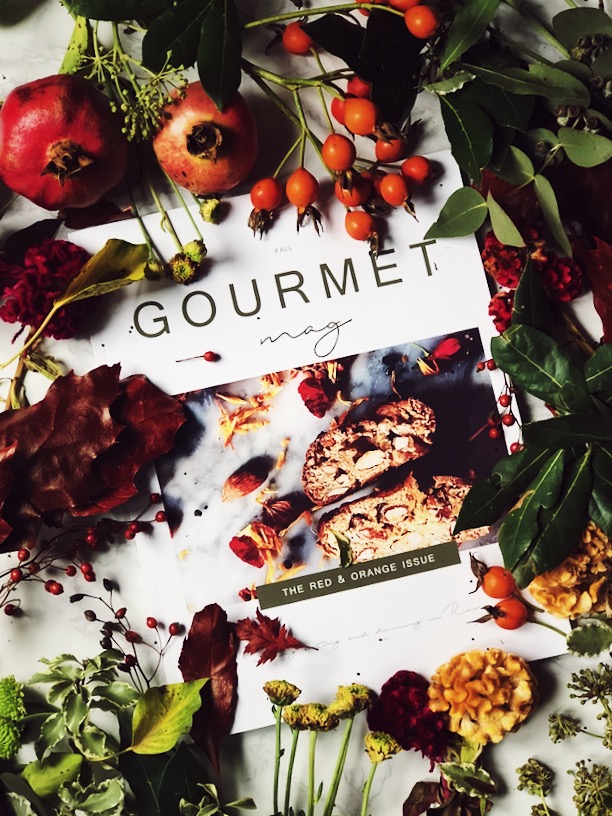 the red and orange issue | Christmas traditions in Rome
Welcome to the Red & Orange Issue: an ode to Italian Christmas and Fall!
In this issue:
113 pages
111 pictures
27 recipes
THE INDEX:
A FALL BUCKET LIST
VILLA FARNESINA – ROME
THE TRILUSSA PROJECT:
Piazza Trilussa in Rome
Poems
Cacio e Pepe
Carbonara
Chickpeas and Pasta
Pasta alla Zozzona
FESTIVITY OF THE DEAD:
Fave dei Morti Cookies
Bones of the Dead Cookies
Dead's Piadina
Papassini Cookies
A Cookie Board
THE CHESTNUT PROJECT:
Tuscan Castagnaccio
Chestnut Cake
Chestnut Trofie Pasta
ST MARTIN'S DAY
THE CHEESEBOARD PROJECT:
Prosciutto Cotto Mousse
Fried Sage
Saffron Honey
A FALL TABLESCAPE
THE POMEGRANATE PROJECT:
Pomegranate Risotto
The Tintoretto Cocktail
Grano dei Morti
THE ORANGE PROJECT:
Antipasto Molisano
Spinach & Orange Salad
Pepatelli Cookies
Orange Cream
A ROMAN CHRISTMAS:
Stracciatella Soup
Gift Wrapping Idea
Lesso alla Picchiapò
The Befana Stocking
Christmas Games
Pangiallo
Christmas Trees
THE PERSIMMON PROJECT:
Persimmon Crumble
Persimmon Jam
Champagne Persimmons
about Simposio
Experience Italy like a local: good food, extraordinary landscapes, infinite heritage, and unexpected adventures.
Simposio is an Italian seasonal cookbook and a travelogue.
In each issue, you'll walk through a different city or region. You'll go deep inside food culture, stories, lifestyle, and traditions.
Expect the following:
exploring the best monuments and secret places
things to add to your Italian bucket list
local & authentic recipes
jokes, beautiful words and expressions
culture, habits, and lifestyle
seasonal fun and inspiration
lovely pictures
A little technical stuff:
You can choose between print and digital.
Servings are for two people, to be duplicated as desired.
Measures are in gr, cups, and oz.