Here's my collection of Rome recipes (more to come). They are all traditional Roman recipes.
Some are dishes we often eat, everyday recipes, like stuffed tomatoes, or the arugula salad; others are weekend foods, like the carbonara or the pasta "alla zozzona".
The stracciatella soup and the "chiacchiere" (that in Rome we call frappe) are authentic Roman recipes for the holidays.
Please note that most of these recipes from Rome are seasonal: artichokes for Winter, and "puntarelle" for early Spring… that's the way we eat :-).
And there's street food too of course: "pizza bianca", an oily delight you CANNOT eat without mortadella!!!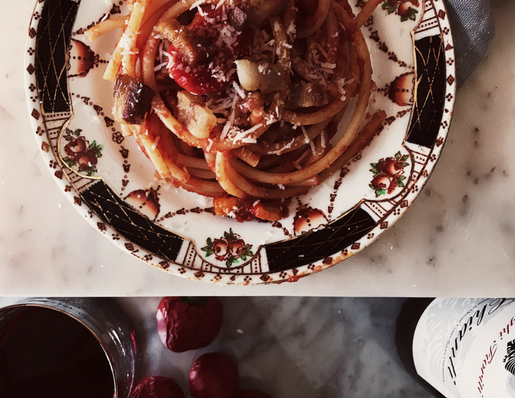 The authentic Amatriciana recipe: tasty guanciale and tomato sauce with bucatini (or spaghetti, or rigatoni). Make an amatriciana sauce when you want an easy but delicious big bowl of pasta.